Sanjay Dutt denies charges
A designated Terrorist and Disruptive Activities court on Friday recorded the statement of film actor Sanjay Dutt, an accused in bomb blast case, who denied the charges levelled against him.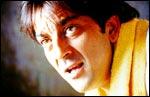 Dutt appeared before the designated TADA judge P D Kode to give his point of view on the evidence tendered by the prosecution. Nearly 100 other accused were also present.
Prosecution has alleged that film producers Samir Hingora and late Hanif Kadawala had shown co-accused Baba Chavan and other accused Dutt's residence, where they had gone with arms and ammunition in a car.
According to the Central Bureau of Investigation, Dutt allegedly accepted an AK-56 rifle (a terrorist weapon in a notified area) from the accused who then took the other weapons to the house of co-accused Zebunisa Kazi.
When Samir Hingora and Hanif Kadawala were arrested after the blasts, they spilled the beans. Dutt was in Mauritius for a film shooting from where he instructed his friends over telephone to go to his house and destroy the rifle.
Accordingly, they went to his residence and destroyed the rifle in a foundry. CBI has produced before the court a spring and a rod saying these were the remains of the rifle.
Dutt had earlier denied the charges when his bail plea was argued in 1996.
PTI