Lata to sing in Pakistan?
Faisal Shariff in Bombay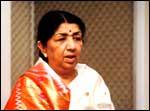 "Lata Mangeshkar will perform in Pakistan this year," says Zahid Bashir, Pakistan Cricket Board's (PCB) marketing director.
In a telephonic conversation from the Gaddafi cricket stadium in Lahore, Bashir told rediff.com that talks with Lata's nephew, Yogesh, were progressing on a positive note.
Lata Mangeshkar is vacationing in Europe now and is expected to return in the first week of July.
"We had earlier invited Lataji to Pakistan for a tribute we had planned for Madam Noorjehan. Lataji accepted the invitation but declined to perform.
"This time, I am confident that she will perform. And the cities that she will grace are Karachi, Lahore and Rawalpindi," adds Bashir.
"The modalities need to be worked out and the contract needs to be put in place. We will offer Lataji her price. The revenue that we generate from the concert will be used for development of Pakistan cricket."
"Lataji's acceptance of our invitation will be a great gesture following our president, Pervez Musharraf's visit to India. I think this will easily be the top cultural event of the sub-continent. Lataji is revered here as much as she is in India. And I will see to it that she is accorded the head of state guest reception," assures Bashir, who is also the chairman of the Pakistan Hockey Federation.
"A $ 4 million television rights offer is being considered for the live coverage of Lataji's concerts which will be titled, Madam Noorjehan Tribute. The highest ticket would be at Rs 10,000 and the lowest, Rs 6,000. I am confident that it will be a sellout."
Lucky Ali, the son of yesteryear's illustrious comedian Mehmood, who performed a couple of months ago in Lahore along with Stereo Nation, is also expected to perform at the Karachi hockey stadium on July 7.