J Saagar in Calcutta
From Madame Tussad's to sanctum sanctorum, The Big B is sure going places.
Imagine this -- thousands of fans with folded hands praying to a deity and reciting these famous lines, "Gabbar Singh, apne aadmiyon se keh do -- bandookein phenk de."
No, this is not a Sholay rerun. A few days from now, on your next trip to Calcutta, this is what you probably shall see at a temple near you.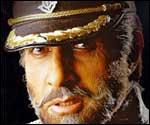 For the Amitabh Bachchan Fan Association (ABFA), of Calcutta will erect a permanent temple for Kalyug's latest Devta, who has enthralled them for so many decades.
This temple will also accommodate a museum containing a complete collection of his films,memorabilia for people to learn more about their guruji.
Those who enter the temple will have to follow certain rules, as in a mandir: listen to Bachchan's memorable lines or chant a mantra, just as a person would, to a deity.
Acts of frenzied fans and incidents of hero worship are not new in India, where stars like M G R and Khusboo have had temples in their names in Tamil Nadu.
And with KBC's popularity rising, this move by his Bengali fans comes as no surprise.
However, when asked at a KBC shoot yesterday about how he felt about the temple, Amitabh Bachchan shied away, saying that he was too small to deserve all this.
Amitabh Utsav will commence from July 5, 2001. ABFA secretary S P Kamath announces proudly, "We will worship our devta in the traditional Satyanaryanpuja way. On the evening of Guru Purnima, we will hold an aradhana and distribution of prasad. A meal for the underprivileged will follow."

The bhakts have more in store for their guruji, -- four microsurgery camps for patients, an eye donation campaign (incidentally both Amitabh and Jaya have pledged their eyes), and a blood donation camp where thalassaemic patients will receive Shahenshah's blessings.
The Calcuttans are excited. Mrinal Desai, 18, who was too young to see AB at his peak, says, "It is a great honour to be born in a country that has produced such a star like him."
Thirty-year-old Rudra Sen remarks, "I can't believe this is happening. I remember watching Deewar as a student and now I see him in Mohabbatein, He is really great."
Amitabh Utsav is the perfect icing on Bachchan's cake, as it coincides with Aks - The Reflection, which has been scheduled for a July 13 release.