Believe it or not, but the Bombay Rent Act and its effects on the common junta will be the subject of an upcoming film.
Yeh Tera Ghar Yeh Mera Ghar stars Sunil Shetty, Mahima Choudhary and Paresh Rawal and is directed by South director Priyadarshan.
Priyadarshan's previous project, Hera Pheri, with Sunil Shetty, Akshay Kumar, Tabu and Paresh Rawal scored big time at the BO. He hopes to recreate some of that magic by repeating Sunil and Paresh in the lead roles.
The funny thing about Yeh Tera Ghar... is that though the film revolves around the life of a typical Bombayite, the film has been shot in Hyderabad, 56 days at a stretch.
The film has been produced by Rajesh Bhatia, Hemang Desai and Sudesh Iyer under the banner of Ripples Picture Entertainment.
We caught on some of the action when some scenes were being redone.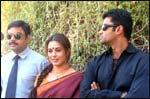 Mahima plays a tenant. Clad in an ordinary sari, she looks the average Bombay lass. Sunil Shetty plays the owner of the house.
It's a fairly simple shot. Sunil has asked Paresh to ensure that Mahima vacates the house. Instead of putting the pressure on her, Paresh takes her side just as Sunil saunters in.
Naturally, he's furious at his plans having gone awry.
The wierd and wonderful part of film-making is that it can be done in bits and pieces. So, we have the first shot of Mahima and Paresh together with Sunil standing at the door, not at all pleased.
This is followed by close-ups of Sunil reacting to all that's been said by the other two. The last bit has the camera moving up close, capturing his reactions to the dialogues, read to him by an assistant.
Cut!
Paresh is brilliant, as usual. He takes the essence of what is needed, catches it by its tail and gives it the twist it needs.
Mahima, although dressed to look ordinary, looks striking.
Both Mahima and Paresh retire to their green rooms. We catch up with director Priyadarshan, anxious to find out what draws him to such middle-class situations.
He smiles and says, "The extraordinariness of an ordinary situation is what I really like. Yeh Tera Ghar Yeh Mera Ghar is a film for the entire family. It's a comedy, the situations are funny and evoke laughter. Scriptwriter Neeraj Vora has given us a powerful script."
Incidentally, Vora, an actor himself, had also scripted Hera Pheri.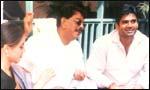 Sunil wraps his close-ups and walks over for a tete-a-tete: "I think every Bombayite will identify with this film. I am really looking forward to their response. This is the second film I'm working on with Priyan. And we're comfortable around each other. Yeh Tera Ghar Yeh Mera Ghar is a well made film."
Mahima returns after a while. "It's not really a romantic film. I have a serious role. One that all of us who have lived in Bombay will identify with."
What remains to be seen is that how many of those someones will.
India News Feature Service