Pushpa
A few days from now, Lagaan will be unveiled to the world.
Next month, it will be Aks' turn in the spotlight, followed by Dreamz Unlimited's Asoka, The Great. And before the year's through, we get to meet Indian.
What is common between these films? Simple, they're all produced by actors.
Lagaan is Aamir Khan's baby. Aks is an experiment by Flick Motion Pictures and AB Corp, the latter being Amitabh Bachchan's newly resurrected production house.
Asoka, The Great is Shah Rukh Khan's dream project while Indian has Sunny Deol's backing.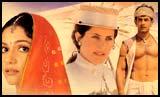 This raises a pertinent query: Why are our actors turning producers?
For Aamir Khan, it's probably because Lagaan is not the kind of film a regular filmmaker would want to risk his millions on. Set in 1890, it focuses on an uprising in a small village in central India, Champaner, that's seen very little rain in two years.
Without rains, the crops will fail and children will starve. It is in these dark days that the Rajah's emissaries arrive to announce duguna lagaan (double tax).
The film is about ordinary, oppressed farmers who rise in the face of adversity and come up with an innovative scheme to overpower the mighty British. Undoubtedly, an interesting story, but one that makes no concessions to the formula.
Aamir, who's always open to unusual roles, was ready for the challenge. But his Bhuvan, who wears a dhoti throughout the film and seeks to subdue the opposition through a cricket match, had few takers. Too fascinated by the script to let it gather dust, Aamir decided, to the delighted surprise of director Ashutosh Gowariker, to make the film himself.
Interestingly, all the four films made by actors-turned-producers are based on 'different' subjects that daringly veer from the run-of-the-mill track.
If Lagaan is a period film, so is Asoka which chronicles the life and loves of one of our great Mauryan rulers and his change of heart following the bloody battle of Kalinga.

It's commendable that Shah Rukh Khan and partners, Aziz Mirza and Juhi Chawla, chose to invest in a historical drama despite the failure of their first production, Phir Bhi Dil Hai Hindustani. One would have expected them to cut corners and come up with a commercial entertainer that targeted the frontbenchers and assured a sure profit. But the trio refused to be dictated by the BO.
"We made Phir Bhi Dil Hai Hindustani knowing it didn't have universal appeal. Now, we plan to make at least one film for the next ten years. And they are not going to be 'safe' films," Shah Rukh Khan had boldly announced in the face of brickbats. "Juhi, Aziz and I have joined hands to make the kind of films we believe in."
This need to make 'my kind of film' is what propels others stars into enterprising adventures with cinema. When Rakesh Mehra completed the script of Aks, he never thought that his directorial dream would get the Big B's patronage.
Luckily, one day, when he was with Abhishek, Amitabh walked in to say goodbye to his son before leaving for Delhi. Mehra, who happened to have a copy of the script with him, handed it over to Bachchan senior with the request that he read it some time.
"It must have been a boring flight because Mr Bachchan finished reading the entire script on the flight to Delhi and immediately on landing there, called me up to say just three words, 'Let's do it'," Mehra recalls, excitedly.

Today, with Amitabh Bachchan heading an eclectic cast that includes other talents like Nandita Das, Manoj Bajpai and Raveena Tandon, Mehra can afford to bask in Aks' 'reflected glory'.
If the film is a daring beginning for him, it is also a brave comeback for Bachchan. His Rs 10,000 million ABCL had made an attempt to corporatise film-making.
But the debacle of Mrityudaata and Saat Rang Ke Sapne and the average success of Major Saab washed out the company's dream. With Aks, ABCL (now AB Corp), and Amitabh Bachchan are returning to the production sector.
Sunny Deol's Indian may have him in a role true to his stereotyped image, but people in the know insist that it's not just another maar dhaad drama.
The film is a remake of a Tamil film that made an overnight sensation of Vijaykanth. It has Sunny playing a patriotic cop whose efforts to take on the system and eradicate corruption clashes with his father-in-law, another senior police officer, and alienates his wife. Staying within the commercial format Indian promises to be as different as Vijeta Films' earlier action thriller, Ghayal.
Having quickly picked up the ropes of production through the making of Betaab, Sunny decided to make films which had a touch of class. He refused to succumb to market trends and agreed to do 'different' films like Narsimha, Arjun, Dacait and Yateem.

When an unknown director came to him with a script he had written with Kamal Haasan in mind, Sunny surprised him by persuading Dharmendra to make the film under the family banner.
Ghayal had plenty of action but little comic interaction. When friends suggested to Rajkumar Santoshi that he incorporate some light moments, he refused. And Sunny stood by him.
Ghayal was a gamble but it worked. It fetched Sunny two National Awards for Best Actor and Best Commercial Entertainer, and convinced him and other heroes to back films they believed in.
It's another story that Sunny's following home productions -- Barsaat and Dillagi -- didn't enjoy the same success. But that hasn't stopped Sunny from making an Indian the way he thinks it should be made.
It's easy for an actor like Sunny or Shah Rukh to make a film his way. Arranging finance is not a problem because their name sells with distributors. And coordinating dates is not the nightmare it is for other producers because colleagues are always willing to make adjustments in their diary for them.
"So why not make the best of it?" asks Shah Rukh Khan.
Yeah, why not?
Phir Bhi Dil Hai Hindustani may not have been the hit of the year but thanks to shrewd marketing, Shah Rukh and his partners didn't lose much except their Midas touch. And should Asoka do better, it could well make them crorepatis many times over because this time, they'll get to take home the pay packet and the profits, too.
Making a film for an actor is not just a financial windfall if the project clicks. It also gives him a chance to exercise complete control over the film, something that is not possible when another man is bankrolling the film.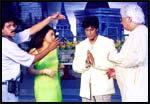 "Most producers," rues Aamir, "make films with the intention of making a fast buck. They know very little about the creative side of film-making and care even less."
Not so the producer of Lagaan who lived and breathed the film along with his family of 350 unit members for five months, 17 days and ten hours. He grappled with the problem of synchronised sound, unforseen accidents and illnesses and climbed up a mountain every time he had to make a phone call.
Obviously, it was an exhilarating experience for the new producer. Because today, while admitting that production has its stressful moments, Aamir asserts that it's also enjoyable and he'd like to produce many more films in future.
Making their own films also gives actors a chance to break out of the mould and prove their versatility. Ajay Devgan, one of our last action heroes, chose to plunge into production with a film that had just one slap at the end. Pyaar To Houna Hi Tha, with Ajay in the unusual role of a soft-hearted Samaritan, was a surprise hit and prompted him to experiment with an intense family drama, Dil Kya Kare.
Then came the patriotic extravaganza, Hindustan Ki Kasam, followed by the equally extravagant children's entertainer, Raju Chacha. Both didn't succeed at the box-office but the Devgan remained undaunted. "I always wanted to make quality films which is why I launched my own production." he claims.
Ajay admits that a number of people had warned him that Dil Kya Kare would not work commercially. But he went ahead and risked money on it because he believed in it. It gave him a chance to do something unusual. The conviction was there during Hindustan Ki Kasam and Raju Chacha too.
"Through my films, I want to show the rest of the world what India is capable of," he asserts. It's not an idle boast. Ajay Devgan is determined to prove that actors can make good producers, too.

It's a determination that prodded Shashi Kapoor a decade earlier. Not any more.
Six times, Shashi tried to break through the barrier. Six times he failed. 36 Chowringhee Lane, Junoon, Kalyug, Vijeta and Utsav succeeded in wooing the critics, but failed to make an impression with the masses.
Shashi's ambitious Indo-Russian co-production and directorial debut, Ajooba, failed on both counts. And he finally decided to call it quits as a producer. "Why should I make another film? The films I make are not the kind of films people want to see," he sighs.
Where do our actors go wrong with their films? Jackie Shroff's explanation about the eclipse of Grahan is that he had no one to oversee the production. He put his wife Ayesha in charge of his second production, Jis Desh Mein Ganga Rehta Hai. Though the film failed to woo the BO, Ayesha ensured that even with an erratic Govinda heading the cast, the film was wrapped up in good time -- just eight months.
Sanjay Dutt and Kumar Gaurav didn't have an Ayesha to rely on. And Chakra that was launched with so much fanfare, is stuck in the cans... perhaps forever.
Deedar-e-Yaar almost wiped out Jeetendra's life's savings. It's taken him almost two decades to wipe out the memory of this Muslim social and invest in a David Dhawan dhamaka, Kyonki Mein Jhoot Nahin Bolta.
Ans if it hadn't been for the television game show Kaun Banega Crorepati and the welcome crores it brought Amitabh, ABCL may well have remained history.
Rajesh Khanna hasn't been able to sell Jai Shiv Shankar and Feroz Khan is still recovering from the debacle of Prem Aggan.

"Actors however successful, usually lack the experience and expertise that production demands," insists a film-maker who wants to remain incognito. "Not everyone is a Raj Kapoor. Acting in a film and making one are two different things. And with the situation as tricky as it is today with less than half-a-dozen films a year finding their mark, just passion and perfection is not enough. You have to know the pulse of an audience, the way a Satish Kaushik or a Raakesh Roshan does."
Sunil Shetty agrees. It's his dream to head one of the biggest production houses in the country five years down the line and hit the market with fun films like Hera Pheri.
"But production," the star admits," is not just about investing money in films. It is about creating something from thin air, marketing it right and making people wait for your next film. The way they wait for a Yash Chopra, a Subhash Ghai or a Sooraj Barjatya film."
Chances are that when Sunil Shetty's son or daughter is old enough and inclined towards films, the proud papa will launch him or her. Making a film for one's progeny is the best way of continuing with the bloodline.
Many stars of yesteryears have turned producers only to give their laadlas a big break. Rajendra Kumar gave his son, Kumar Gaurav a dream debut with Love Story. Sunil Dutt launched Sanjay with Rocky. Dharmendra made Betaab and Barsaat for his sons, Sunny and Bobby, while Vinod Khanna turned his son Akshaye into a Himalayaputra.
Rakesh Roshan presented Hrithik with Kaho Naa...Pyaar Hai. And, more recently, Raj Babbar has started a film under his banner to introduce his daughter Juhi.
Sometimes, the star even plays Santa Claus for a brother or a sister. Dev Anand launched Navketan 50 years ago so his elder brother, Chetan, a college professor, could live out his dream of making a film. Dilip Kumar produced his only film, Ganga Jamuna for his brother.
While Govinda may still shudder at the memory of Radha Ka Sangam, he's still making a Pyaar something for brother Kirti.
As for Anil Kapoor, all these years, he was pumping in his money to keep his father, Surendra Kapoor and brothers, Boney and Sanjay happy. He was unrepentant when a Roop Ki Rani Choron Ka Raja or a Prem threatened him with financial ruin.
Today, after all these years, he has finally joined up with Satish Kaushik to start a production company of his own and make a film for himself, Badhai Ho Badhai.
The motivation to make a 'good film' is still there. "When you're the producer you can make the kind of film you want. It helps you improve your own work," Anil points out.
"And launching your own production company can also keep you in the industry for a long time."
Reason enough for actors turning producers?!