The Great Indian Family Drama!
Deepa Gahlot
What is surprising about The Great Indian Family Drama is not that it continues to be so archaic and formula-ridden. But that audiences have still not got tired of it.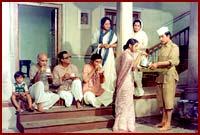 What's more, a big starcast and multicrore budgets have lent a certain respectability to a genre that was once considered slightly inferior, maybe just a little above the stunt film (which was also considered B-grade in those innocent days!)
After the rush of socials (Ghar, Sansar, Sasural) in the Forties, Fifties and Sixties, the action film oriented industry started dismissing kitchen sink melodramas (with Lalita Pawar and Shashikala typed as horrid mothers-in-law) as 'ladies' picture', which were the preserve of directors like Kalpataru.
The boring procession of saas-bahu confrontations, the virtuous endless suffering, shedding copious tears till justice prevails. Evil relatives get their just desserts and headstrong women get slapped into place. Like Bindu, the spoilt rich daughter-in-law, did in the Raj Khosla's classic and hit social, Do Raaste.
Years later, in Hum Aapke Hain Koun, the same Bindu is a childless and wicked schemer in a family full of ruthlessly good people. In the end, her husband slaps her, which not only reforms her, but also gets her pregnant. So now she is ready to be accepted as a permanent member of the Great Indian Family.
Frankly, every Hindi film is a family drama, just like every one is a musical. But there seems to be some subtle classification process that distinguishes the regular Hindi film from a family social.
After Kalpataru and others had made their modest profits from squabbling family members in various permutations and combinations, Sooraj Barjatya hit a gold mine with Hum Aapke Hain Koun. And after that, a whole bunch of chachas, mamas, mausis, buas, were dished out to fill the frame in practically every film.
There have been quite a few studies on the cultural significance of Hum Aapke Hain Koun.
For instance, Vamsee Juluri once wrote: "In the context of the meeting of global capitalism and local forms of privilege, the audience's investment in the family as a category of globality represents the possibility of epistemic opposition to hegemonic notions of the global." Yeah right!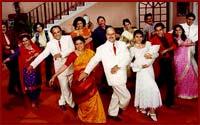 It was easy to see rapid post-liberalisation changes manifest themselves in a nostalgia for a lifestyle gone forever. (How many actually live in such grand havelis, always overdressed and in the midst of endless celebrations?) <> And then there is the NRI homesickness factor too, which every filmmaker -- from Yash Chopra and Subhash Ghai to Raj Kanwar and Sanjay Leela Bhansali -- panders to.
What is worrisome, though, is the complete refusal of filmmakers to deal with family issues at a more realistic, believable level -- no problems of nuclear families, ageing, materialism, divorce, parenting...
Sure, we can argue that films are meant to be escapist. And why bring boring realism into it?
But Hrishikesh Mukherjee, Gulzar, Basu Chatterjee, have made films about families, which were hugely entertaining, yet plausible. Bawarchi is a fine example (which has been copied in some form or the other several times). A realistic and very underrated film about urban living was Basu Chatterjee's Jeena Yahan.
At least in urban areas, life and family structure is quite different from what films portray. A careerwoman, for instance, is hardly ever seen in Hindi films except as a selfish vamp (eg Akele Hum Akele Tum) or object of ridicule (eg Laadla).
In Barjatya's Hum Saath Saath Hain, the homebreakers were three single women (Kunika, Kalpana Iyer, Jayshree T), mockingly called titlis-- who smoked and played cards in clubs. Again 'wicked' women (and men for that matter), are those who do not abide by the law of family supremacy.
Javed Akhtar had once remarked that the modern woman was hardly ever seen in films because film writers and directors were not quite sure what she was all about and how audiences would react to her.
Incidentally, in a lot of Salim-Javed scripts, the women were not decorative bimbos -- Jaya Bachchan in Zanjeer was a knife-sharpener, Hema Malini in Sholay was a tonga driver, Rakhee in Trishul was a secretary, in Mr India, Sridevi was a journalist.
So that is why filmmakers today play safe and continue to create old fashioned and stereotypical female characters. This is glaringly apparent in the Neo Family Sagas (in films as much as on TV).
In the latest of the genre, Ek Rishtaa - A Bond Of Love, industrialist Vijay Kapoor (Amitabh Bachchan), has a son and three daughters. It is clear that the son is given the best education abroad, while it is understood that the daughters will get married and be sent to their sasural. No careers for them and certainly no share or say in the family business.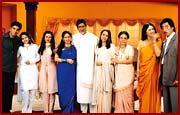 In the end, when the board of the factory is going up, Kapoor proudly adds "& Sons" to it.
Like a good Indian woman, Vijay Kapoor's daughter-in-law (Karisma Kapoor) gives birth to a son. After failing in her attempt to separate her husband (Akshay Kumar), she is suitably contrite.
The eldest daughter of the family (Juhi Chawla) finds out that her husband (Mohnish Behl) has cheated her father of his fortune. She stays on with the man till he threatens to kill her -- dramatically on Raksha Bandhan Day when bhaiya is there to protect her.
Earlier, there is a scene in which Vijay Kapoor forbids his son from attacking the treacherous son-in-law because it might affect the daughter's life.
Even today, filmmakers are queasy about bringing up the subject of divorce. Though statistics show it isn't such an oddity in India any more.
The only progressive thing about the film was the daughter refusing to forgive her husband even when the rest of the family has. In an older film, she would have touched his feet and been grateful that she was getting her suhaag back!
Karva Chauth, the fast that Hindu wives observe for the long life of their husbands, surprisingly made a big entry into films in the Nineties!
Perhaps afraid that family films might run out of festivals to celebrate (Holi, Diwali, Karva Chauth, Janmashthmi, Sankranti seen already), Satish Kaushik's latest film Mujhe Kuchh Kehna Hai brings in Mahashivratri and Teej!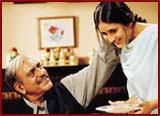 In this otherwise ordinary film, the heroine (Kareena Kapoor) is a research scholar who gets admitted to Harvard and does not chuck it all up for the doltish hero. The hero's (Tusshar) sister (Rinke Khanna), is studying medicine. Maybe change is creeping in, but very slowly!
The big family extravaganzas have not yet run out of steam. Karan Johar's Kabhi Khushi Kabhie Gham is still to come. It might inject fresh blood into the genre.
The ideal family film today would not slavishly follow the epics, but place things in the context of the 21st century -- not just computers on desks, cell phones in pockets and designer clothes on stars.
A film where deference towards the family would not clash with individualism. Where a woman who speaks out will not be silenced. Where parents will be friends and companions not deities to be worshipped. Where there will be a level playing field for sons and daughters. Where emotion and intellect will not be on opposite sides of the fence.
Is that too much to ask for?
E-mail Deepa Gahlot