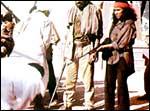 Seema Biswas, who essayed the title role in Shekhar Kapur's critically acclaimed Bandit Queen, reminisces about meeting the person she portrayed on screen:
I met Phoolan Devi after the shooting of Bandit Queen.
I recall her face. She was sitting in Shekhar Kapur's room at Hotel Ashoka.
Shekhar told me, "Come, I'll introduce you to someone."
I thought it must be some filmstar. But it was Phoolan sitting with a child in her lap. I was so surprised, I said, "I must give you a hug. I've been wanting to meet you."
She said, "I'm upset that you didn't meet me before essaying my role."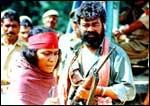 I said I had wanted to but so much controversy had erupted meanwhile that when I told the producer that I wanted to meet her, he said, "Vikram Mallah is dead. So will Nirmal Pandey, who is playing him, go to heaven to meet him."
Phoolan and I met again while going to Siri Fort Auditorium for the film show. Throughout the drive, she kept praising me saying, "I feel I'm acting this not you. You have been through as much trauma while doing this as I have been in real life. I'm amazed at the way you've portrayed me. I feel it's me."
Her husband too paid so many compliments. After that, I received a message from Maan Singh that she wanted to meet me. But that never happened...
As told to Lata Khubchandani
Also Read:
India's Bandit Queen: 5 sites