Amidst disappointment surrounding the India-Pakistan summit at Agra, superstar Amitabh Bachchan on Wednesday said that he was ready to sacrifice himself for the sake of peace in Kashmir.
"I can sacrifice myself for Kashmir," Bachchan told a young fan when she asked him if he would agree to a suggestion from Pakistan that the Kashmir issue could be amicably solved if the neighbouring country asked for Bachchan in return for peace.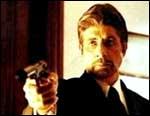 Having acted in several patrotic films like Desh Prem and Azad, the Big B shot back saying, "At one time, we were good neighbours. I don't think anything or anybody is too big to be sacrificed."
He told a press conference that he was willing to brave the extreme conditions at the LoC as a soldier. "I will do everything for my country," he said.
Bachchan, who was in Calcutta for the twin purpose of giving away prizes for Pepsi's slogan contest as well as attending the premier of Aks, told a huge gathering of his admirers that the city has always been close to him.
PTI