Mira Nair directs Uma Thurman
Aseem Chhabra
"Arrey Yankees chalo! Letís go," Mira Nair yells.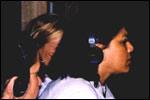 Dressed in a white linen shirt, she looks cool sitting on a covered porch in her directorís chair watching a video monitor.
The temperature outside reads 92 degrees Fahrenheit and a giant make shift air conditioning unit has been installed to cool the house from inside.
Once the camera rolls, the unit will have to be shut down, and actors Uma Thurman and Gena Rowlands and the crew will have to deal with the heat.
Nair is in Bellville, NJ, a small working class town, half an hour drive from Manhattan, directing an HBO film Hysterical Blindness. This is Nair's seventh feature film and her second for a cable television network, following My Own Country.
The quiet tree lined streets of Bellville are no strangers to film production companies, says police officer Phil Ganarro, who has been assigned to Nairís shoot. HBO's hit show The Sopranos was shot in this town. Recently Russell Crowe and director Ron Howard were here recently to shoot A Beautiful Mind.
The three-stored house on De Witt Avenue has been taken over by the film production crew. Technicians, assistant directors, and Nair's creative team walk through the narrow hallways in the house, around the lights, wires and cameras as Thurman and Rowlands sit patiently on a run down couch, waiting for the directorís call.
It is Rowlands' 71st birthday and the crew surprises her with champagne and cake.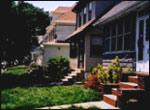 "I will like to toast to our legendary Gena Rowlands," Nair says. "Wonderful, wonderful to have you here. Honour, pleasure and total sex appeal. Now you can start crying in the next scene."
Rowlands and Thurman play mother and daughter in Hysterical Blindness. Thurman is dressed in a loose menís shirt and tight gray gym shorts. Rowlands is a wearing a light blue nightgown. The two are supposed to be watching television, when a phone call informs them that Rowlands' new beau -- a widower played by Ben Gazzara has died.
Gazzara and Rowlands were both regulars in films directed by the independent filmmaker John Cassavetes (who was also Rowlands' husband) and Hysterical Blindness is a reunion for the two.
Hysterical Blindness is based on an Off Broadway play by Laura Cahill ("She is a New Jersey girl," says Nair.) It is a huge departure for Nair, whose previous works have led her to explore the lives of street children (Salaam Bombay) and immigrant experiences in America (Mississippi Masala, The Perez Family and My Own Country).
Hysterical Blindness, scheduled to be shown on HBO next year, is a story of two young women from New Jersey (Thurman and Juliette Lewis) looking for love and sex in working class bars.
The term 'hysterical blindness' (an actual medical condition) refers to a temporary phase when the character Debbie (Thurman) loses her sight. Nair uses Debbieís temporary blindness as a metaphor to describe her state where she is unclear of herself.
Nair says she never goes to bars, but has lived for long time in America to understand the psyche of people who spend their evenings hanging out in the bars.

"The great thing about working in movies is that you surround yourself with people who take you farther," she adds, referring to people like Cahill who comes from a working class background in New Jersey. "That's where documentary life comes in useful because you make it a reality."
The two worked together for six weeks transforming the play into a movie. It also helped that Cahill comes from Woodbridge, New Jersey -- home to many South Asians. Several sequences of Nair's first feature length documentary in the US, So Far From India, were shot there.
"The whole thing is that in every house in this block there are people like this, their story is like this," Nair says. "They are looking for the essential thing of being embraced by somebody, being loved by somebody."
The project came to Nair in early February when she was immersed in the mixing of her latest film Monsoon Wedding.
Thurman acquired the film rights for Hysterical Blindness after she saw the play, a couple of years ago. She brought in Lydia Dean Pilcher as a producer. Pilcher had previously worked with Nair in Mississippi Masala, The Perez Family and Kamasutra.
"Lydia and I are joined in the hip," Nair says.
Nair says she was reluctant to accept the project. There was pressure to finish the principle shoot by June end, because of the threat of a strike by the Screen Actors' Guild (the strike was eventually averted as studios and the actors' union recently came to an agreement).
"So it was a now, now, now thing and shooting had to begin almost immediately and I resisted it for that reason," she says.
But then as Nair further discussed the project, the film's producers and HBO made every allowance for her schedule -- including a month long vacation to Africa with her husband, Mahmood Mamdani, an African studies specialist at Columbia University.
She also convinced the producers she wanted to do yoga every morning on the set. Nair and a dozen of the crewmembers follow the routine religiously. "It keeps us going, and we are stronger, calmer and focused," Nair says.
"They made it more and more difficult for me to say 'no'," she says with a smile.

Today, as Nair sits huddled up with the creative team, crew members walk around with a sense of purpose. Old friends visit Nair on the set, including Dinaz Stafford, who has worked as an associate producer and assistant director on Mississippi Masala and The Perez Family.
A representative from Kodak is around. "He gave me a 10 per cent discount, when I was nobody," Nair says, adding that she does not have to focus her energy on these details anymore. "Now I have people who deal with such things."
But there are some things Nair should deal herself.
Suddenly there is a delay and nobody seems to know the cause.
"Come on, Mira, kick some ass or rather kick my ass," Thurman yells out.
As the shoot gets over, Thurman leaves the house on De Witt Avenue. Officer Ganarro, who has seen Russell Crowe and the cast of The Sopranos, is suddenly awe struck.
"Is that Uma Thurman?" he asks. "My God, she is taller than me!"