A white van makes its way through the crowded streets of Bombay.
Huge posters of Mujhe Kucch Kehna Hai with the words 'New scenes and one song added!' are plastered on the sides of the van. Mammoth banners on the main roads duplicate the same message.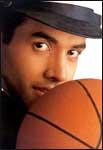 Tusshar Kapoor's debut film, Mujhe Kuch Kehna Hai is a hit and the producers are luring in the audiences for a second viewing with additional scenes -- a ploy that has worked earlier with hit films like Tezaab.
Since MKKH still continues to draw audiences, the ploy appears to have worked. This, when Lagaan and Gadar are doing exceptionally well at the box office.
Tusshar Kapoor is not really good looking. He's like the boy next door, one of the millions who come knocking at the doors of filmdom, seeking entry to fame and fortune. His only advantage is his Jeetendra's son tag.
So when his debut film MKKH (a remake of the Telugu superhit Tholi Prema) was launched, one expected the hype and hullabaloo but did not really expect him to do much.
Three weeks after the film's release, people in the business and out of it are singing a different tune.
What brought people to the theatres was an undeniable curiosity about Tusshar and the desire to see the ravishing Kareena Kapoor. Tusshar might have stood out like a sore thumb initially, but by the time the credits rolled at the end, he had grown on you.
There is a certain sensitivity and earnestness in his performance that reached out and endeared him to the audience. And that's what has value-added to the film.
It's the Jaya Bhaduri syndrome in reverse. He is so ordinary and it this that makes him so credible and identifiable.
Tusshar Kapoor is the surprise package of the year.
Says the film's producer, Vashu Bhagnani, who had also produced the Abhishek Bachchan-Keerti Reddy Tera Jadoo Chal Gayaa, "The film is a hit. I was in the US after the release. I just returned. I am very happy that Tusshar has been liked by everyone. Before the release, people said unkind things about him, that he couldn't act, etc.
"I am glad with this film, Tusshar has proved everyone wrong. He is such a well-behaved boy.
"I have signed him for my next film which I will start in October. The heroine and the script have still to be finalised.
"MKKH is a big hit. The song which didn't do well is the title song. But this is my favourite song.
"The film has done very good business and we are very happy. The promos of the film are also a big hit."
On the eve of the release of the film, a visibly excited Tusshar had said, "The film has shaped up really well and I am thrilled. Satish Kaushik is a great director. He allows you to take your time, specially in a difficult scene."

For a young man who switched careers midway (Tusshar holds a Bachelor's degree in Business Administration from Michigan University), he was obviously quite sure that acting was his calling.
Said he, "When the time came to do something with the professional qualifications that I had, I realised that all I really wanted to do was act in films." His hunch proved right.
The film struck gold at the BO.
Confirms Manoj Desai, owner of premier theatres in Bombay like Gaiety, Galaxy, Gemini and Maratha Mandir, "This film is a very big hit. In the third week because of Lagaan and Gadar, the collections had dropped but even so it's faring very well.
"The audiences have liked Tusshar as a simple boy. They have loved Kareena -- she is simply gorgeous. Tusshar will do well but he should do films that suit his personality."
That might be a little difficult. Since most Hindi film heroes are dashing young men who can conquer the world with their fists and charm, Tusshar may not really fit the bill.
At the moment, his spirit is soaring, "I am so excited and happy. We are celebrating every day. The first day of the release of the film, I went to Star City theatre with my Mama, distributor (Ramesh Sippy). Then we went to Premier, Cinemax and Metro, where the reactions were great.
"I think everyone has liked me. Kareena (Kapoor) is so happy. She has been telling me let's go for dinner and celebrate.
"Recently, I received a great compliment from someone I met at a party. As an actor, I think have shown great ability and I will be a good actor. "
Says Ramesh Sippy, Jeetendra's brother-in-law and chief distributor of MKKH, "The response to the film has been very good. I was always confident from the start that film will do well. I saw the film at Metro and Premier.
"The song, Rabba mere rabba is a big hit. We are very happy with the business it has generated. The public has liked him.
"The scene where he has scored is the climax scene with Rinke and his father.

"As for Kareena. she is outstanding. Her dances have been liked by everyone. Mujhe Kucch Kehna Hai is a bumper hit."
The film has scored maximum in centres like Bombay and Lucknow as well as in the interiors.
In its second week, the theatres in both these centres registered almost 100 per cent collection. In Sholapur, Maharashtra, it scored an absolute 100 per cent. In Karnataka, though, the film did not score too well and did only average business. The third week's collection dipped a bit with Bombay showing 80 per cent returns and Lucknow, 98 per cent.
Have Lagaan and Gadar affected the film's collections? Marginally.
Admits Bhagnani, "It did affect the film's business slightly, but we have proved what we wanted to prove."
Sippy says, "Naturally, whenever another big film releases, like Gadar and Lagaan, which were released in the fourth week after Mujhe Kucch Kehna Hai, it is bound to affect the business. But it is very negligible."
From a stint as David Dhawan's assistant to making a debut with his childhood friend, Kareena, it has been a remarkably easy journey for Tusshar.
But how does he feel now that success is his for the taking? "I do realise that my father's name could only bring me this far. After this I'm on my own. The response of the audience to this film has shown that they like me.
Now, I have to work real hard to keep up the faith."
The Kapoor household is jubilant. Says the proud father, Jeetendra, "We are celebrating every day. God is kind. His blessings are with us. I am very happy."
Tusshar will soon be starting to shoot for Padmalaya's Koi Dil Ne Kaha with Esha Deol. Then sister Ekta is all ready to start her film with him, to be directed by David Dhawan. According to Ekta, brother dear might have had a good start. But there's a long way to go before he can be called an established actor.

Says Ekta, "Not only me, everyone prayed for the film's success. Now we have to work harder. Tusshar has to work very hard to be successful.
"I started my film with Tusshar on June 25 -- one scene and one day of shoooting. The next schedule will start from August.
"Now, there is no time to party. Maybe next year. We just need to work hard. Jai Mata Di."
With strong support from family, from the industry and from the BO, Jeetendra's son is here to stay. A lambi race ka ghoda, as the film people say.
Even with stiff competition from other star sons like Hrithik Roshan, Abhishek Bachchan and Fardeen Khan. So is he scared of competition?
Tusshar laughs his father's carefree laughter and says, "There are films we can do and there are films we can't. I'm sure they realise this as much as I do."
India News Feature Service
ALSO READ
The Tusshar Kapoor interview
The review of Mujhe Kucch Kehna Hai
The story in pictures
The music review of Mujhe Kucch Kehna Hai
Mujhe Kucch Kehna Hai...
'Amit-uncle, how could you beat my father!': Kareena Kapoor
'I compete with myself!': Rinke Khanna