Kareena Kapoor has to leave town that night.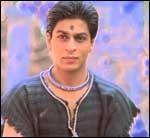 The sun is setting. The unit is in a frenzy to wrap up.
Director Santosh Sivan is on tenterhooks, wanting to capture its golden light to best effect.
Shah Rukh Khan is doing is best to calm Santosh Sivan down, in-between deep lungfuls of nicotine.
He appears to be the calmest of the lot.
The sets, though not lavish, look stunning through the camera lens. There is much screaming, shouting and frenzied activity.
It's the last shot of the day, between lovers Shah Rukh and Kareena.
The backdrop is perfect. The skies are a passionate red with hues of brilliant orange streaking through the reds.

Asoka The Great will be Shah Rukh's and Kareena's biggest canvas and probably one of the best platforms to display their histrionics.
Produced by Dreamz Unlimited, a banner headed by Shah Rukh Khan, Juhi Chawla and Aziz Mirza, this magnum opus follows closely on the heels of their first production, Phir Bhi Dil Hai Hindustani.
Brilliant cinematographer Santosh Sivan, who made his mark with the widely acclaimed Terrorist, is at the helm of this periodic saga.
Kareena has her cell phone glued to her ear. It is put by only when Sivan calls her for a shot.
Hrishitaa, the newcomer and second female lead in the film, comes in to bid adieu to Shah Rukh, Kareena and Santosh.

She stops by to talk about the film -- "Santosh is very quick with his shots. His mastery over lighting is awesome. When I see myself on the monitor, I realise just how effective all his painstaking hardwork is."
"We had a chilled out atmosphere at work, absolutely no hassles. It was like an ad film but a little more elaborate. I play a Buddhist girl.
"Do you know what a strange coincidence it was? I was reading a book on Buddhism when Santosh sir contacted me. The role has a lot of scope performance-wise and I am thrilled with the way I look in the film," she adds.
It's impossible to talk to the other two stars on the set because the director is determined to finish as much as he can.
The buzz is that the film will be screened abroad with English subtitles and the makers are leaving no stone unturned to see that the film is a quality product.
There was even talk of BBC buying the rights of the film in the international market, though nothing much has amounted from them.

Hrishitaa is in awe of Shah Rukh -- "He's just a brilliant person. It was so comfortable working with him. He has always been one of my favourites. I got to learn so much from him while working with him. We share a cool rapport. He'd help me out -- 'Tell me what would be good for the shot', what I should do, etc. He doesn't have the attitude of a big star."
As if in response to that, the sun dips low into the horizon and twilight takes over the city.
India News Feature Service