He's fought evil men on screen for decades.
Now, Amitabh Bachchan is on a crusade against the enemy of the Indian Hindi film industry -- pirated video CDs and illegal cable transmission of films prior to their release.
In the capital to launch his new film Aks, Amitabh told newsmen that the different dates of film releases worldwide had helped the parasites of films dole out illegal video CDs, adding that he would first see it diminish in India.
"It is for certain that piracy has spread beyond the Indian shores. But I am trying my level best to help solve the problem in India at least. Let us get our region within control.
"I have met the Delhi Police Commissioner and asked him to use his good offices to help us cut piracy," he said.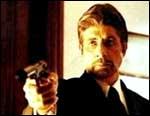 "We know the ill effects of piracy. It hurts the producer, kills the film, causes huge losses to the industry. I urge people to refrain from buying pirated video CDs and cable operators from transmitting them illegally," he said.
The director of Aks, Rakesh Mehra, said the distributors had secured orders from the Delhi High Court against illegal transmission of the movie over cable network: "Piracy can easily kill a film. Once you watch it over cable or in video, the appetite to see the film is lessened It becomes difficult to take the audience to theatres."
Meanwhile, Bachchan fans met their their hero thanks to an innovative contest launched by a multinational soft drink company.
The contest, Scenes With The Stars, launched as part of the nationwide promotion for Big B's latest film Aks, not only gave the consumers a chance to meet the stars of the film in person but also enact their favourite scenes from the film in front of the stars.
Consumers of the popular cola Pepsi could enrol for the contest by filling in a slogan and answering a question on the film. The winners will be flown to a central location where they could meet the cast of the movie in person.
PTI