'I will act only in good films'
M D Riti
"You want to know my birthday resolution?" asks Shivarajkumar, with a grin on his 40th birthday.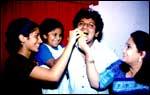 "I have decided to stop doing remakes! I will only accept and act in good quality films after this."
His announcement might dismay his mainstream producers who have churned out remake after remake starring Shivaraj for more than a decade now. In fact, over half the films that thespian Dr Rajakumar's eldest star son features in regularly are remade from every other language.
The most recent was Asura, a remake of a hit Tamil film starring Ajith. Another celebrated remake, Preethse, now about 18 months old, which is a close copy of Shah Rukh Khan's Darr, has just been released in the US.
But most discerning Kannada film watchers will be pleasantly surprised by Shivaraj's long overdue decision, as remakes have virtually pushed good, original fare out of the market in Karnataka.
Actually, Shivaraj just won a State Award for best actor of 1999 for his performance in Hrudaya Hrudayaa, an original film. The award was announced just a few weeks ago.
The Rajakumar family readily acknowledges that Shivaraj is the most versatile actor in the family after his ageing superstar father. He has acted in all kinds of films and has played all kinds of roles ranging from goonda to freedom fighter.
"I want do only good films like Om, Janmada Jodi, Nammoora Mandara Hoove and AK47," says Shivaraj, naming some of his best remembered films.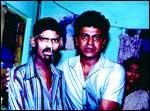 "I am weary of accepting every kind of film that comes my way. I want to cut back on my workload and do really memorable cinema."
His ambition to turn director with a film featuring his beloved Appaji may temporarily be on hold.
But Shivaraj now wants to forge ahead with his other ambition to build a film city, somewhere between Bangalore and Mysore. "I have already identified the location," he says, now. "I have also found backers. I think I will be ready to start work on building it on November 1, which is Karnataka Rajyotsava (State) day.
Meanwhile, Shivaraj spent his 40th birthday in a slightly different way.
For starters, he visited a diehard fan Anjan Kumar, who was recently diagnosed as having leukaemia. Having his idol visit him on such a special day made a big difference to the ailing Kumar, his young wife and child.
Moreover, Shivaraj and his brothers Raghavendra and Puneet have also declared that they will help the ill fan by sponsoring his treatment and living expenses. His fans club has also announced that it will mark the day by financially assisting the disabled.
What of the remakes that Shivaraj already has on hand? "No worry, I will not dump them," grins the star who has always admitted that remakes were bad for the industry, but still made them by the dozen.
"But that's not all I have on hand. I also have some excellent films like the one made on the famous novelist Poornachandra Tejaswi's Jugari Cross.
A year ago, he confided to rediff.com his ambition to direct a film starring his father. Rajakumar, too, seemed ready to acquiesce, until Veerappan came and carried him off into the jungles. Then came a completely lean period of no films for Shivaraj, when the entire film industry ground to a stop.
Ironically, the very first film to be released when the bandh was lifted, even though Rajakumar was still in captivity, was a Shivarajkumar starrer Galate Aliyandare.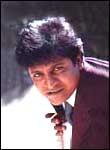 Now, Shivarajkumar is back on the crest of a success wave, justifying his nickname of hat-trick hero. He no longer talks about wanting to direct his father, but says instead that he hopes to make a film to launch his young daughter Nivedita, who won a State award some years ago for her performance as Shivaraj's daughter in the film Andaman.
As for the other family member waiting patiently for his debut, Shivaraj's younger brother Puneet, who was also a National Award-winning child star, the birthday boy says Puneet will get his turn soon.
The industry was rife with rumours that Puneet would be launched in a film directed by Nagithihalli Chandrashekhar shortly.
This deal appears to have now fallen through, and Shivaraj says the family is in discussion with director Poori Jagannath, the director of the Shivaraj starrer Yuvaraja.