Arthur J Pais
Will Aamir Khan join the $ 1 million club in North America?
With about $ 835,000 gross, Lagaan has turned out to be his biggest hit, beating his 1947- Earth by at least $ 150,000.

But with pirated videos of the film swarming the market, box office observers wonder whether Lagaan has the legs to reach the $ 1 million benchmark and join the small list of superhits like Taal and Hum Dil De Chuke Sanam.
Lagaan took a big nosedive this weekend grossing just about $ 35,000 on 28 screens.
"But we still think it will make it to $ 1 million," says Charu Benegal, speaking for distributor Sony Entertainment Television (SET). "We did better business during the rest of the week."
This is the second film released by SET in North America. The previous film, Mission Kashmir garnered an impressive $ 700,000.
In England, Lagaan has grossed about $ 540,000. It could have grossed more but for the racial violence in several British cities in the last three weeks. It could end its run in North America and England with at least $ 1.6 million.
Before Lagaan was released, many exhibitors wondered whether the second generation of desis who have grown up on baseball would react to a film about cricket. Besides, would young women want to see it?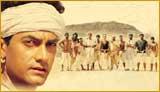 But in many theatres in San Francisco and New York, many teens did, indeed, watch the film. Some praised the film's humanity; some said they marvelled at Aamir Khan's performance and many liked the choreography.
"This is one of the few films that I have seen where every song has a special place in the film," says Simran Bajwa, a New York college student. She also said that many of her relatives who have small children, decided to wait for the video. "It is nearly impossible to keep the kids quiet for over three hours."
When the film showed strong legs in the second week, dipping to less than 20 per cent, there were speculations the film could end with about $ 1.5 million.
By the third weekend, the gross plummeted by about 50 per cent.