Sexy Beast lures the Oscars
Arthur J Pais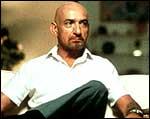 The Oscar nominations are six months away but a small budget British import Sexy Beast is luring many movie forecasters.
Reviewers across the country expect the film, which is showing on about 100 screens across America now, to be a heavy Oscar contender, particularly in the acting department.
Critics feel that Ben Kingsley, who plays a menacing gangster, has given his most riveting performance after Gandhi and Schindler's List. Kingsley has won an Oscar for Gandhi and a nomination for Schindler's List.
Sexy Beast, which has received a standing ovation at a number of international film festivals, marks the movie debut of Jonathan Glazer, one of the most successful commercial directors in Britain.
Glazer says Sexy Beast material seduced him because the plot offered an intriguing love story and a fast-faced gangster drama. "It was also about the redemptive power of love," he says.
"It is a gangster movie with a difference. While it has many vicious story twists and violent situations, it is overwhelmingly a love story," Glazer adds.
Glazer knew right from the beginning that he did not want to make a film that would travel to a few film festivals, get excellent reviews but disappear from movie theaters in a week or two.
"My aim was to make a film that people want to see; not just something to show in an art house to seven of my friends," he continued.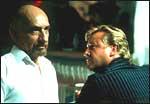 "I've always wanted to make a passionate film," Glazer, who is in his 30s, says.
And passion is plentiful in the movie.
Set on the Spanish Costa del Sol and in London, Sexy Beast offers the story of ex-villain, Gal Dove, who after serving his time behind bars has blissfully retired to a quiet Spanish villa with his wife. His newly found idyll is shattered by the arrival of Don Logan (Kingsley) who wants to persuade the ex-con to return to London for one last big heist.
Dove cannot be swayed to change his lifestyle, so it seems to Don. Soon the two are drawn into explosive and relentless battle of wills. Every move Dove makes is geared towards one goal: to protect the woman he loves deeply.
After casting the well-known British television actor Ray Winstone as Dove, Glazer considered a lot of British actors to play Don.
"I knew we needed a great actor to pitch against Dove," Glazer says. "I had admired Kingsley for many years but wasn't sure if he would be at home playing a gangster. But as soon as I met him, I knew he was the perfect choice."
Sexy Beast which has grossed a strong $2 million in three weeks in a very limited run, will be prowling across 250 movie cages across America this week. Distributor Fox Searchlight expects the movie will eventually play on more than 600 screens and turn into a medium sized hit.