The International Cricket Council and the Federation of International Cricketers' Associations (FICA) acknowledged the services to cricket of Antigua and Barbuda legends Sir Vivian Richards and Andy Roberts and Jamaica fast bowling hero Michael Holding on Monday by inducting them into the ICC Cricket Hall of Fame.
The former players were presented with their Hall of Fame caps by West Indies Cricket Board President Dr Julian Hunte on the field of play during the lunch interval on day two of the third Test between the West Indies and England at the Antigua Recreation Ground.
Richards, who made the fastest Test hundred in history at the venue when he reached three figures in just 56 balls, against England in 1986, said: "It is a real pleasure to be recognised as one of the legends of West Indies cricket and in a group of players in world cricket.
"It was special to receive this honour alongside two players I played a lot of cricket with," he added.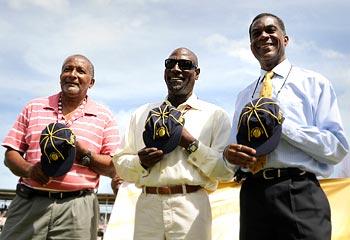 Holding, who was also celebrating his 55th birthday, said: "It is a tremendous honour to become part of this small group of cricketers. It's not something you set out to try and achieve when you start playing cricket but it is special to be recognised alongside such greats of the game.
"It is one of those things that will endure a long time after people have forgotten the matches I played in and it makes me proud."
Local hero Roberts added: "It is a real privilege to be honoured in this way and it was a proud moment to receive the cap."
The three former players are among 13 West Indies legends who are being inducted into the ICC Cricket Hall of Fame, which is being run in association with FICA. Further presentations will be made later on during England's tour of the Caribbean.
The ICC Cricket Hall of Fame initiative forms part of the ICC's centenary celebrations which are focused on celebrating the unique heritage of the game and cricket's enduring spirit.
Richards, Roberts and Holding are three of 55 players in the ICC Cricket Hall of Fame's initial intake. Previously, during South Africa's tour of Australia, former South Africa batsman Barry Richards and Australia wicketkeeper Rodney Marsh received their caps.
Further cap presentations will be made during the course of 2009, the ICC's centenary year.  Further inductees will be named and acknowledged in due course.
The launch of the ICC Cricket Hall of Fame forms part of a range of events during the ICC's centenary year of 2009. The year is intended to be a global celebration with numerous events taking place to reflect all that is great about the game.
Image (from left to right): Former West Indies players Andy Roberts, Vivian Richards and Michael Holding pose after being inducted into the ICC Hall of Fame during the third Test cricket match between the West Indies and England at St John's.
Photograph: REUTERS/Philip Brown