Having been informed of an interaction with Sachin Tendulkar well in advance ensures one thing: you are prepared with a set of questions.
The Master Blaster doesn't speak often, and when he does, it is not as much as you may expect. So every opportunity you get, you try to make the most of it.
But then comes a by-now-frequent roadblock -- he is going to be late. All preparations go for a toss; the only thing you look for then is the means to kill time; you have no other option than wait.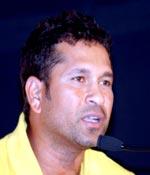 The wait is long and boring, but when the legend arrives you somehow regain the energy. And, thankfully, it is one of those days when he is willing to speak. Thus, it is vital that the opportunity be grabbed.
The first question was topical. How does Tendulkar look forward to the upcoming tour of New Zealand?
"It is going to be a challenge for sure," he replies, almost with immediate effect, as if he was anticipating the question.
The elaboration follows.
"Not only playing New Zealand, but also playing them in New Zealand, because of the conditions.
"It is tough out there."
Coming from someone who has toured New Zealand on no less than six occasions in his illustrious 20-year career, this statement came in as a surprise.
But the caution was justified.
"In places like Wellington, when a bowler bowls at say 130-135 kph the ball comes faster from one end because of the breeze coming in from that direction. Similarly, from the other side the ball comes at a slower pace, as there is no wind.
"That in turn changes the batsman's plan."
With most of squad members touring New Zealand for the first time, does he see this as an impediment to India's prospects?
"I don't think it will be a negative factor.
"We have both experience and youth, and the balance is good. It will be a learning experience for all the players who are touring for the first time."
What corroborated Tendulkar's confidence was the recent performances of the Indian team.
"We have been playing good cricket of late and we need to continue doing that," he asserted.
Tendulkar's last tour wasn't exactly successful. But his form wasn't entirely to be blamed for that.
So what's his reaction to the three dubious decisions he got in the just-concluded Sri Lanka ODI series?
"Aap galat aadmi se poochh rahein hai [you are asking the wrong person]. The ICC doesn't allow us to talk about it at all."
On being prodded further, he admitted: "It is definitely difficult for any player and I am disappointed; but such things happen."
Talk then veered towards Twenty20, the game's most recent version that is palpably gaining popularity with every passing day. So it does rankle a bit to find Tendulkar out of the Indian team's scheme of things.
"It was a conscious decision not to play Twent20 anymore," he reasoned. "I took the decision after the England tour of 2007. At that time it was my body that prompted me to take that decision.
"Now the team is doing well and I don't want to disturb the composition."
But then how does he explain his captaining Mumbai Indians in the Indian Premier League?
"As far as Mumbai Indians is concerned, I have been there since the beginning. So there's certain continuity in that regard," justified Tendulkar.
"I have been out of the Indian T20 team for more than one-and-a-half year now and would like it that way."
With no scope for further questions on that subject, the next followed.
The ICC is trying out the referral system in various bilateral series before finally implementing it. Tendulkar was part of the Indian squad that toured Sri Lanka last year when the system was tried out the first time.
So what's his opinion on it?
"I didn't particularly like the system, as there is an element of uncertainty.
"The hawk-eye is definitely not convincing enough."
You want to ask more questions. And, maybe, Tendulkar would have been happy to answer them, considering he was 'in-form' with the words. But the organizers have other plans. You are left to be content with what you have and wait for the next opportunity to come your way.
Photograph: Sanjay Sawant