It has taken less than eight months for Afghanistan to jump from the fifth division of world cricket to one level below the major Test-playing countries.
The team from the war-torn nation continued one of sport's unlikeliest success stories by winning the third division in Argentina last week, a six-team tournament which doubles as a qualifier for cricket's World Cup.
Only last May, Afghanistan were playing in the fifth division of the International Cricket Council's (ICC) world league. Having finished top of that in a tournament played in Jersey, they then came top in the fourth-division tournament in Tanzania last October.
In April, they travel to South Africa with a chance of qualifying for the 2011 World Cup or gaining coveted one-day international status.
National television reports chart the team's progress and thousands of people turn out to welcome them home after their tournament wins.
Coach Kabir Khan describes his team as ambassadors for the country, offering a change from the stereotyped image of religious fanatics and interminable violence.
"We might be the first Afghans to come to Argentina, so we were the ambassadors for Afghanistan," he said.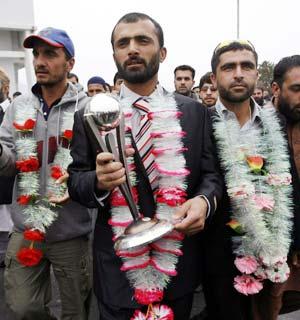 "Most people might have got a view about us and the sort of nation we may be, because of all the war and stuff.
"They might think all kinds of things but they welcomed us with open arms and we have been treated very well here.
STREET GAME
"Cricket is getting a huge following and the other thing it brings people together as well," he said, adding that the players never discuss politics among themselves.
"What I've seen is that people might be in different groups politically but when it comes to cricket all of them are together."
Remarkably, cricket has only recently been introduced to the country by Afghans who were raised in neighbouring Pakistan, in particular in the city of Peshawar.
"Before the war started and before people started migrating to Pakistan, there was no sense of cricket," said Khan, himself a Pakistani who played four Tests and 10 one-day internationals for his country in the 1990s.
"Nobody even knew about cricket. But the boys who migrated...started to learn about cricket because there was nothing else in Pakistan. It's a game which you can play in the street, that's how they got into this sport."
At the moment, the players are occupied full-time with cricket although they are paid only nominal sums.
"We are playing for pride and to get to the World Cup," said fast bowler Hamid Hassan.
The team's strength lies in the bowling attack, led by spinner Mohammad Nabi and right-arm fast bowler Hassan, and the disciplined fielding.
LUCKY RAIN
The batting can be erratic and Afghanistan enjoyed a huge let-off in Argentina in their final match against the Cayman Islands.
Having restricted Afghanistan to 68-5, Cayman Islands were only 28 runs from victory with eight wickets standing when rain forced the match to be abandoned for the day.
Afghanistan, who would have been eliminated if they had lost, came back the next day and made 230 from their 50 overs, the highest score of the tournament, before going on to win by 82 runs.
"We more than a little bit lucky and I think God was very kind to us," said Khan. "It was all those prayers back home. The rain came at the right time."
The final and highest hurdle on the road to the World Cup will be in South Africa where 12 teams -- including established sides such as Scotland, Ireland, Netherlands and Kenya -- will be competing for World Cup places.
Four teams will qualify for the 2011 World Cup -- to be held jointly in Bangladesh, India, Pakistan and Sri Lanka -- and six will earn one-day international status.
Hassan said Afghanistan stood a reasonable chance.
"We have lots of talent, all of the boys in Peshawar and lots playing in the countryside in Afghanistan."
"It's going to be difficult but not beyond our capabilities. They boys have got potential, they've got the talent," added Khan.
"They're playing for pride and respect and we're getting pride and respect for our nation all over the world."
Photograph: Omar Sobhani/Reuters