Champions Rajasthan Royals got a timely boost ahead of the second season of the Indian Premier League after Bollywood actress Shilpa Shetty and her UK-based beau-entrepreneur Raj Kundra picked 12 per cent stake in the team.
Announcing the partnership, Rajasthan Royals' chairman Manoj Badale added that his team will also be undertaking a couple of tours to the United Kingdom and Australia later in the year.
Shilpa later revealed that her boyfriend Kundra was looking to buy an IPL team since long, and getting the chance to invest in Rajasthan Royals was an honour for them.
"I completely relate to them. They were the underdogs in the first season and they won the tournament in their first season, which is exactly the story of my life," Shetty said in Mumbai on Tuesday.
Shetty and Kundra have invested around US$ 16 million in Rajasthan Royals, which is currently valued at around $140 million after being purchased by Emerging Media for $67 million last year.
Badale said the key reason behind bringing in Shetty was to exploit her popularity globally in a bid to make Royals a popular team worldwide.
"We wanted to find a strategic partner to develop the commercial properties. It is not about Bollywood joining cricket; it is about off-field commercial partnership. We want to make Rajasthan Royals more than a cricket franchise; we want to make it into a global brand. It was the second most popular team in all of India last year and the fan base is growing all the time", he said.
Though the financial slowdown has affected most sports around the world, Badale is quick to point out that it his team is not affected much by it.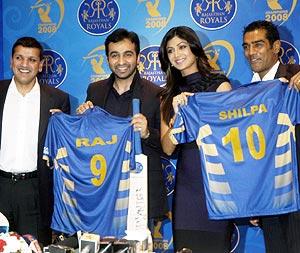 "I think we benefited being the champions. But it has definitely affected us in the sense that we had to shelve our plans for public floatation, which we were mulling pre-Christmas.
"But saying that, there has been no reduction in sponsors. And I feel the investment from Shilpa and Raj has funded us adequately for the next few years," Badale added.
The Rajasthan Royals chairman was disappointed by the Pakistan government's decision bar their players from taking part in the IPL second season.
"It is a disappointing for India, for Pakistan and for the IPL. It is a real shame that the Pakistan players will not be taking part."
Badale feels it would be difficult to replace Sohail Tanvir, who was the highest wicket-taker last season with a haul of 22 wickets. But he added that it does not mean that Royals would be trying to fill his slot with an expensive purchase.
"It would be difficult no doubt to replace Tanvir, but we have a balanced team and we will again be smart with our funds during the players auction. This year it would be a bit difficult for us taking into the account the Pakistan situation and the tight international schedule; which means some of our players would not be available at different times during the tournament.
"As you noticed last year we were less interested in specific players but more in the balance of the team and this year it won't change," he added.
The Rajasthan Royals will also be making a few international tours after the IPL's second season in a bid to give the youngsters more exposure.
"We are looking to tour the UK in summer and to Australia around October. And in both these places, Shilpa has a huge fan following which should also help us increase our fan base," Badale said.
Indian youngsters like Ravindra Jadeja and Swapnil Asnodkar played a huge role in Rajasthan's success and this year too the focus would be on developing youngsters.
"We have always promoted youngsters, as you witnessed in the last season. This time too we have a batch of nine new young players and I am hoping that at least one or two of them make it to the first team. Captain Shane Warne and coach Darren Barry have travelled to India and interacted with the youngsters. Let's hope we find a new Asnodkar and Jadeja this season too," he said.
Meanwhile, Bollywood heartthrob Shilpa pointed out she is not following in Shah Rukh Khan and Preity Zinta's shoes in owning an IPL team, but trusting her partner Raj's decision.
"In fact, there is a lot of camaraderie and no rivalry with either Shah Rukh or Preity and I learnt a lot from them last year. I am not following a trend but trusted Raj's business acumen. And who better to sign up than Rajasthan Royals the reigning champions," she said.
"In fact the IPL is being held in India and all these three other owners are all Britishers and they need an Indian, so here I am," Shilpa joked.
Asked about her marriage plans with Raj, Shilpa's reply was tongue-in-cheek.
"Where is the money now to get married?"
Image (left to right): Rajasthan Royals chairman Manoj Badale, Raj Kundra, Shilpa Shetty and Rajasthan Royals vice-chairman Ravi Krishnan.
Photograph: Arun Patil