Good things in life, it is said, don't come easily. That is the mantra of Subramaniam Badrinath.
The Chennai batsman has been the most prolific batsman in Indian domestic cricket for quite a few years, but failed to reap the benefits of it. Year after year the selectors ignored him because they believed he was a one-dimensional player who couldn't fit into contemporary cricket, where fast scoring is the norm.
But Badrinath did not throw in the towel. He went to the nets and improvised his game to suit the modern-day style. It was not long before the hard work paid rich dividends. His transformation was complete with a successful season for Chennai Super Kings in the inaugural Indian Premier League, which brought him firmly back into the limelight.
"I don't know how much the IPL helped me improve my skills as a batsman, but it certainly helped to boost my confidence. There were a lot of international class bowlers in the IPL and when you do well against them it gives you the confidence that you can do well against them in other formats as well," Badrinath told Chief correspondent Harish Kotian in Vadodara.
"But, I think, the IPL helped me shed the tag of being a one-dimensional player. Many would not have believed that I could do well in the shorter version of the game. I also got a lot of confidence. Of course, I tried to add some more shots and worked on some of the shots I already had. When you have little time you have to manufacture shots rather than wait for the right shots. The IPL gave me a chance to do that," he added.
Reward for his hard work didn't take long. He was called up to the Indian squad for the ODI series in Sri Lanka, and he did not disappoint.
In his debut match, he showed great composure in difficult circumstances to lead India to victory with an unbeaten 27.
"That knock was really special. We were in a bit of trouble in that low-scoring game. I could not have asked for a better time and platform to make a start for the country," said Badrinath, giving credit to his ODI and Chennai Super Kings captain, Mahendra Singh Dhoni, for helping him settle down in that match.
"In fact, Dhoni's presence at the other end helped me a lot. I have played a little cricket with him and we share a good rapport; he made feel at home because he knew my game."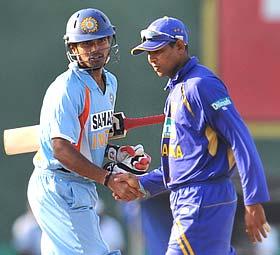 The 28-year-old's record in the last few seasons is indeed awesome. He scored 636 runs from seven matches in 2005-06, followed by 436 in 2006-07 and 659, at 65.90, in the last Ranji Trophy season, coupled with tons of runs for the India A team.
But the selectors were still unimpressed. Disappointed, Badrinath sought advice from Australia's run-machine, Michael Hussey.
"It was a tough time, no doubt. I was trying to focus on doing well with the available opportunities. During that period, interacting with Hussey, when he came to play for the Chennai Super Kings, helped me a lot. He is also a guy who made his debut quite late. I was trying to improve as a cricketer and learn new things on the way. These things came handy when I got the national call.
"I spoke to Hussey about how he got his mind going when he was not picked for Australia. He told me, 'enjoy whatever cricket is on your hands and play it to the best of your ability'. Whether you are playing for country, state, or the 'A' side, you tend to pick up something along the way. It was a rich experience for me to interact with him," he added.
Badrinath believes the experience of playing domestic cricket for eight years now has helped him understand things better and stay calm under pressure.
"I am not as cool as I appear, but I have played eight years of domestic cricket. That experience helps you a lot on many situations. Now I know what is exactly expected out of me in each situation," he says.
The right-hander believes the India 'A' tours to countries like Australia and South Africa played a big part in helping him make the smooth transition to international cricket.
"I have been part of some 'A' tours to Australia, where I faced the best of bowlers. Zimbabwe, Kenya and South Africa came here sometime back. So I was facing some quality bowlers in different conditions. I did not feel that much of a difference; it was more about mental transformation."
The Chennai batsman confessed that he was surprised to make it to the Indian ODI squad before being given a Test berth, as he was considered a grafter and one who would struggle in the shorter version of the game.
"If you look at my List A record, it's been pretty good. I always thought I will get the one-day chance first because the senior players play more Tests, so the middle order is pretty much packed. I had to keep myself ready for the options opening up," he said.
So how does it feel when people say he could be the ideal replacement for Rahul Dravid?
"Sachin [Tendulkar] and Rahul are batsmen I have always looked up to, even from my childhood days. It is a privilege to be spoken about in the same breath as Rahul Dravid. He is a great batsman and there is a lot to learn from him."
He also gives Dhoni a lot of credit and believes there is a lot to learn from India's ODI captain.
"I learned a lot about captaincy from Dhoni. He is calm and composed under whatever match situations. His attitude rubs on to you and makes you at ease on the field; it prompts you to play fearless cricket."
Badrinath, who is playing for Rest of India, is hoping to clinch a place in the Test squad as well with a decent showing against Delhi in the Irani Trophy match.
"It is an important opportunity for me. I have already earned a one-day spot, and if I can do well here [in Vadodara], that will put me in the reckoning for a Test berth. I am trying to seal my place in the one-day and Test teams. That is my aim this year; that is what I am trying to do all the while. I will be really satisfied if that happens this year," he said.
With India's seniors failing to live up to expectations in recent times, one won't bet against it!
Photographs: Getty Images