Indian fast bowlers need to maintain the momentum after a brilliant showing helped achieve their first Test series win over Australia in seven years, bowling coach Venkatesh Prasad said on Wednesday.
He said India are likely to rotate the fast bowlers in the seven-match one-day series against England starting Friday to preserve them for the two Tests to follow.
"We can't take the foot off the gas," he said  after completing a memorable 2-0 win over Australia.
"We've to take the confidence forward," he said. "[But] they need enough rest and recovery because it is physically and mentally demanding, particularly for the fast bowlers."
The seasoned Zaheer Khan and the 20-year-old Ishant Sharma played crucial roles against Australia, striking early blows and then troubling the batsmen by reverse-swinging the old ball to overcome slow pitches.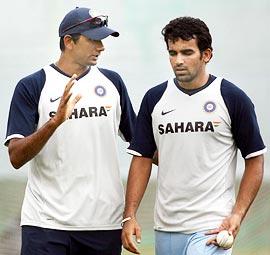 Ishant was named player of the series after taking 15 wickets and Zaheer took 11, backing mainline spinners Harbhajan Singh, Amit Mishra and Anil Kumble, who tallied 32.
The youngster is nursing an ankle strain that could sideline him for the start of the one-day series, local media have reported.
Former Test paceman Prasad is confident Indian fast bowling has the depth to maintain the intensity against England.
"All the bowlers did very well, it was a great team effort," he said. "We had planned quite a few things for each batsman. But the way they stuck to plans for long durations was commendable.
"It showed how much they wanted to win."
ASHES COMPARISON
India's consistent reverse-swing bowling drew comparisons with England in their 2005 Ashes win under Troy Cooley, who as current Australia bowling coach was criticised after his wards failed in that aspect.
"The bowlers did a commendable job on flat tracks," Prasad said. "In both Mohali and Nagpur where we won, it did not particularly assist the fast bowlers or spinners."
Harbhajan and leg-spinner Mishra, who made his debut in the second Test in Mohali, shared seven wickets in the Australia second innings to help win the final Test in Nagpur by 172 runs.
"Even in Nagpur, the roughs were outside the stumps and that showed the commitment of the bowlers," Prasad said.
"We showed a lot of intensity. Each and every time, Zaheer and Ishant ran in and hit the crease with purpose," he said. "We had controlled aggression, it did cross the line sometimes but that is what sport is all about."
The performance helped India again show they longer depended only on spin bowlers to win at home.
Prasad, 39, was known for his ability to move the ball rather than sheer pace in his 33-Test career until he quit in 2001. Seen as a good motivator, he said talking to players individually helps keep them focussed.
The Board of Control for Cricket in India appointed him last year in the wake of the one-day World Cup debacle, meeting the team's long-standing demand for a bowling coach.
The fast bowlers have played important roles since then, in winning last year's Test series in England, the World Twenty20 in South Africa as well as a Test in pacy Perth.
Photograph: Getty Images