'Tough,' was how an emotional Anil Kumble summed up his 18-year journey in cricket at a felicitation ceremony, organised by the Board of Control for Cricket in India, in Nagpur, on Thursday night.
The veteran leggie called it a day after the third Test in Delhi and was deservedly honoured by the BCCI on the first day of the fourth Test against Australia.
Thanking his teammates and the people of India, he said the last three days were very tough for him "to realise and understand what cricket means to India and billions of people".
Kumble, who finished as India's highest wicket-taker with 619 wickets in 132 Tests also thanked his team mates and family for supporting him right through his career.
Excerpts from Kumble's address at the felicitation function:
"It's been very emotional. I am not someone who goes through emotions; but it is always tough when your time is up and you know that you have to give up something which you have loved and played for all these years. To all my team mates who made this journey possible for me, and the kind of reception they gave me in Delhi, it was really overwhelming; thank you so much.
"To the people of India, the last three days have been very tough for me to realise and understand what cricket means to India and to billions of people. The amount of messages that I have received, the amount of support, the amount of wonderful, kind words that I have received, it has been really overwhelming.
"It has been really tough. 18 years is a really long time to be a part of a cricket team. I had to go through lots and lots of turns in my career but my family has been really supportive and my wife has been very supportive. I think it is time now to give them that time now.
"As said Sachin [Tendulkar] rightly said how hard it is for the family, so it is time now to spend some time with the family and the kids.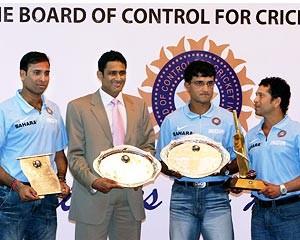 "To [VVS] Laxman, congratulations on your 100th Test match. You have been a fantastic team player. Like Sachin mentioned, I don't think you have got your due, but as a team we all know what you are worth and you are worth your weight in gold. Well done on your achievement.
"You have been someone who has always performed under pressure. In difficult situations you have bailed the team out and you have won many matches for India. I hope and wish that God gives you the strength to do it again and again for a long, long time to come. All the best, Laxman!
"Sourav [Ganguly], it was very hard for me today to walk into the President's box and watch a cricket match. I have been on the field for 18 years and to watch a cricket match from the stadium, which I probably did as a kid, was never easy. So enjoy these four days of cricket.
"You have been a fantastic cricketer. Under you we have learnt how to win Test matches abroad. Congratulations to you for that. And your batting is something which all of us cherish watching in the dressing room. I am really glad that you had an opportunity to do everything that is possible on a cricket field. I wish you all the best in your entire life and I wish the family the very best. Thank you so much for all the support that you have given.
"Sachin [Tendulkar] just mentioned that when he first heard of me, he heard of me as a batsman. Actually, the first paper clipping that I have of an Under-17 zonal match, it says: 'Tendulkar, Kumble score centuries'. He scored a century for West Zone and I scored a century for South Zone and I didn't know who Sachin was at that point of time. He has come a long way. When he first came to the international scene everybody, not the just team members but the whole of India, said that 'you will one day break all records'. You have done that, Congratulations to you for that!
"To me, when I first came they said I won't last two Test matches. You had the challenge of proving everybody right and I had the challenge of proving everybody wrong. It is never easy, both are challenging and I can assure you that the support I have received from my team and family has been tremendous. Without their support I don't think I would have been able to achieve all those.
"To Rahul [Dravid], we share a special bond. We were Karnataka team mates; it has been a long journey and we have had some fantastic moments. You have been the backbone of Indian cricket and all the success that we have had is due to your contribution. I wish you well in the years to come and thanks for all the support and all those moments that we have shared off the field as well.
"To Venky [India's bowling coach Venkatesh Prasad] who is here. I never thought that one day Venky would come as the coach and I would still be playing. That is what I mean looking around. When I look around, I have played with Chikka [Krishnamachari Srikkanth] as well, who is the chairman of selectors now. I have played with Dilip [Vengsarkar], with Ravi [Shastri], most of the selectors and most of the coaches in India. "So it becomes a bit difficult when you are actually playing then and looking around you and seeing all those and saying 'I have been playing with all of them, but they have all moved ahead… and even Gary [Kirsten] for that matter.
"To Bhajji [Harbhajan Singh] I will miss being a spin partner. I am sure you will now lead the attack which you have done so very well all these years. Wish you a fantastic career. You are very close to a personal landmark [300 Test wickets] all the very best. I am sure one day you will become the highest wicket-taker for India. All the very best.
"To Veeru [Virender Sehwag] and Zak [Zaheer Khan] I have played a lot of cricket with you. I think you are two special talents who will now have to lead the batting and bowling departments in terms of getting the results for India and I am sure you will do that.
"To M S [Mahendra Singh Dhoni] and Gary [Kirsten], I know for a fact that this team will become number one very soon. We have all the talent and the experience in the team.
"To all the other members of the team you have a great career ahead of you. Go out there, enjoy it and let's win the series, which will be decided in the next four days. That will be the greatest gift. We all set out before the start of the series and we sat down in Bangalore and we said our aim and goal is to win the series. We are very close to it and I am confident that we can achieve it.
"Once again, thank you so much for all the love, affection and support that all of you have given me. The members of the media, thank you so much for all the support. I thank the KSCA [Karnataka State Cricket Association], my home association, thank you for the support.
"Thank you too my dad and mom, who gave me all the encouragement right throughout my career. To my brother who said you are better off bowling leg spin, but he didn't tell me how to bowl a leg break, I am still learning.
"Thank you so much to the BCCI for this great honour.