He is devastating on the field, his bat doing the talking much to the opposition's displeasure.
Off it, the sangfroid is evident. And when it comes to the talking bit, he prefers to be parsimonious in the use of words, modesty personified and, to a great extent, politically correct.
That, in short, is Kevin Pietersen for you.
Asked to takeover as England captain from Michael Vaughan in the final Test against South Africa at the Oval in August, the 28-year-old delivered almost instantly -- and in dual capacity at that.
As a batsman, his contribution was a maiden hundred as skipper, and in the latter role he went on to win his maiden Test. The leader guided his bunch to a whitewash over the same opposition in the subsequent shorter version (read 4-0 in the ODIs).
Now in India on his first tour as captain (seven ODIs, two Tests), Pietersen is pragmatic, circumspect and confident at the same time.
"This series is going to be very difficult," he says, having anticipated the question in advance. "India is playing some great cricket at the moment and M S Dhoni is a fantastic leader. We are looking to do well."
But didn't England beat India (4-3) the last time they played in a bilateral ODI series?
"It is a totally different story. Playing India in England (where the ball seams) and in India (where the ball either reverse swings or spins) is very different," he says, before going on to justify his answer.
"The last time we were here, we managed to draw the Test series, but we got smashed 5-1 in the ODIs," he argues.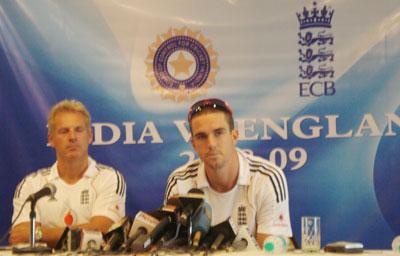 But the series win against South Africa surely must have boosted the team's confidence?
"To beat South Africa 4-0, it's something we hadn't done before. But beating India in India will be tough," he reasons.
"I will happily take a 4-3 result (like in England last year) in our favour."
The start to his captaincy stint was impressive. So how does Pietersen assess himself as captain? And what is his contribution in that role so far?
"It is a fresh start. Michael Vaughan was a great leader -- probably the biggest captain England ever had. But what I do bring in is just the freshness, a newness," he explains.
"The boys have dealt very well with the new regime and I, on my part, have tried to give my players the confidence to know that they can go out there and perform."
Among the people responsible for the success achieved during his captaincy are Andrew Flintoff and Steve Harmison, and many credit Pietersen for having got both back to the reckoning. Even before he is asked, he interrupts…
"Freddie was injured for a long time and started firing immediately after he came back; may be he had missed something he loved so much for 18 months. It is not fair to say I did anything for him."
"Steve, we had to do the job of getting him back to the team. Once that was done, he started performing."
And how is the pressure accompanying the new role?
"I try not to feel the pressure. I have my ways of dealing with it," reasons Pietersen. "It is just about moulding a team. You do your business and the results are bound to come."
With a talented team at one's disposal it sure tends to become a bit easy.
"I don't like talking about talent, but seeing talent work on the field," he retorts, without batting an eyelid.
However, it hasn't been all hunky dory for Pietersen. The Stanford T20 was at best an affair to forget.
"We went into the Stanford game not knowing what was going to happen. We dived into depths of uncertainty," he reasons, trying to justify the 10-wicket thrashing England received at the hands of the Stanford Superstars in the winner-take-all Twenty20 challenge in Antigua.
"I'm a great believer to try things and the ECB tried, too, when they signed the deal. In trying things you might make mistakes but you also learn from them. So, it wasn't special in Antigua but we definitely learnt."
Just three months at the helm of affairs and already showing an amazing maturity, Pietersen is a learner for sure. And that is not good news for Dhoni and Co.
Photographs: Bikash Mohapatra