It was a knock to die for; a knock that keeps you on the edge till it lasts. And a knock that you probably expect to watch whenever you venture to a cricket ground.
Rohit Sharma was in his elements on Wednesday in the Ranji Trophy Super League match against Rajasthan.
His 140-ball 128 was aggression personified -- 22 boundaries and a huge hit over it to be precise -- the first 32 runs coming through hits to the fence. More importantly, it was a knock which rendered the opposition attack completely ineffective.
With the selection for the one-day series against England scheduled later in the evening, the 21-year-old probably reminded the selectors of his prowess, even though he didn't need to (his selection remains a mere formality). No wonder, Sharma played down on the selection issue.
"My approach is which ever game comes my way I should get good runs," he reasoned. "As for getting into the ODI squad is concerned I'll wait for the selectors to make a decision."
Quite a modest approach one must say. But the modesty was nowhere to be seen when he was clobbering the Rajasthan bowlers to all parts of the ground en route to scoring a century in just one session.
However, Rohit was at his modest best on the given day. He went on to justify his boundaries as well.
"Their fielding was attacking and the field was open. So it was easy to find the gaps and get boundaries," said Rohit.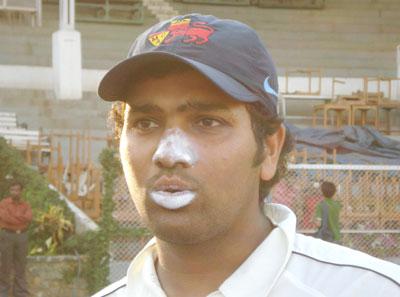 But the hundred must have been special in any case (no modesty here please…)
"Every hundred is great. But this was definitely one of my better knocks," he admitted.
"It was the first time that I had scored a hundred in a single session."
The batsman, who made 404 runs at 36.73 including four fifties playing for the Deccan Chargers in the inaugural Indian Premier League and also was among the runs in the recent NKP Salve Challenger Trophy, was however not entirely satisfied with his array of strokes.
"A couple of shots that I hit initially were not off the middle of the bat. But then I hit the ball quite well.
"Against Gujarat, when I scored a double hundred, I was middling almost everything. Also in the recent Challenger Trophy that was the case. As a batsman you feel comfortable and confident when you are middling the ball." Nonetheless, it was his 171-run fourth wicket partnership with Sahil Kukreja (83) that has almost assured an outright win for Mumbai - chasing a seemingly improbable 409 for a win, Rajasthan were tottering at 63 for four at stumps on day three.
"I told him (Sahil) whenever I play loose shots he should come and tell me. The same thing applied in his case," reasoned Rohit.
"It was important as we were 35 for three then and needed a partnership at that point of time."
The plan worked and a win is on the cards. However, there was a tinge of regret amidst all the elation -- the regret of having missed out on a century in first innings after being so well set at 62.
There were many who criticized Rohit for playing a rash shot at that point of time but the latter did justify that.
"It is my game to go for the shots and that shot does get me a lot of runs," he said. "Sometimes I will definitely get out.
"But it was unfortunate to miss out on the hundred in the first innings."
He may have missed out on a hundred in each innings but Rohit has ensured that Mumbai does not miss out on the full points in this match.
Photographs: Bikash Mohapatra