Former India wicketkeeper Farokh Engineer believes the 1983 World Cup victory must rank among the country's top achievements.
"You got to rank it as one of pinnacles of India's achievements, because winning a World Cup is no mean feat. At that time Indian cricket wasn't expected to win, but we won against all odds and that's why it was fantastic," Engineer told rediff.com from London.
Engineer considers himself lucky to have witnessed the tournament from close quarters, as he was dong commentary for BBC's 'Test Match Special'.
His most interesting anecdote is about the then India Prime Minister, Mrs Indira Gandhi, declaring a public holiday in the country to celebrate the triumph after hearing his comments on BBC Radio.
"I was commentating on Test Match Special for BBC Radio with the great Brian Johnston, who has passed away [in 1994]. He jokingly asked me if Mrs Gandhi was listening to the commentatory at the final, during the close stages, just when we were about to win the World Cup.
I said, 'Of course, Mrs Gandhi is an avid Test Match Special listener. Whenever she gets the time and she would be listening to this match.'
"He then asked me whether she would declare a public holiday the next day. I told him that I had absolutely no doubt that she would. 'It is a great occasion for Indian cricket, a great occasion for India,' I told him.
"And within five minutes we got a phone call at our BBC headquarters [in London] from the [Indian] Central Cabinet and the phone call was relayed on to the commentators' box at Lord's cricket ground that Mrs Gandhi has in fact heard your comments and declared a public holiday. It was frightening to sort of hear that, but it was a great occasion, a momentous occasion for Indian cricket," Engineer recounted.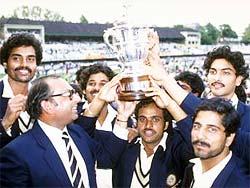 The former India stumper picked Kapil Dev's sparkling knock of 175 as India's standout performance at the tournament.
"One great performance was Kapil Dev's innings of 175 at Tunbridge Wells. It seemed everything was lost for India; they had lost all their top wickets but Kapil Dev came and scored that brilliant century against Zimbabwe. That great innings will always be in mind. It was a great innings by a great player," he said.
Kapil and his team will be felicitated by the Board of Control for Cricket in India in New Delhi on June 22 after which they will visit Lord's, where they won the trophy 25 years ago, on June 25, for a gala dinner.
Engineer, who is settled in England, is a bit miffed though about not being invited for the celebration.
"I am glad the cricketers are being honoured, but I wish I knew anything about it. People here in England ask me whether I am going to attend [the dinner], and I tell them I don't even know about it. I have only heard about the function being held at Lord's.
"Sunil Gavaskar is my dear friend, and I am sure if he has anything to do with it [he will invite me]. He always calls me whenever he comes to England, so I am sure of one phone call from him... I will go and support him. But I will definitely call them and wish them on completing 25 years," the 70-year-old, who was also a good opening batsman, said.
Engineer, who played 46 Tests and five one-day internationals for India between 1961-75, was considered one of the finest wicketkeeper-batsmen of his time. His keeping skills against the legendary spin quartet of Bishen Singh Bedi, E A S Prasanna, Bhagwat Chandrasekhar and S Venkataraghavan was the stuff of legends.