Out in the wilderness for 18 months, former International Cricket Council chief Jagmohan Dalmiya, elected as the president of the Cricket Association of Bengal (CAB), has scripted a dream comeback that is only similar to state icon Sourav Ganguly.
As counting of votes at the 77th Annual General Meeting of the CAB which continued past midnight, a beaming Dalmiya announced: "Cricket in Bengal needs me. That's why I'm back".
"I will take a couple of days to sit down with colleagues and decide about our future plans," he said.
Dalmiya, lying low ever since he was ousted from the post of CAB president in December 2006, planned his comeback and ensured that his entire panel of office-bearers was elected comfortably.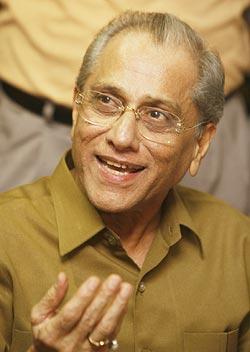 The former ICC chief defeated the incumbent president and senior IPS officer Prasun Mukherjee 71-47 for a decisive victory as 118 of the 121 voters cast their ballots at the Eden Gardens in Kolkata.
Indirectly referring to cases instituted against him by the BCCI, Dalmiya said: "Initially I wanted to make a comeback so that I could emerge without a blemish, but that changed once Bengal got relegated to the Plate Division of the Ranji Trophy. There is much work to do now".
Vanquished in the battle, which was being observed keenly on the BCCI radar, Mukherjee said: "the members wanted Mr Dalmiya back and this mandate is overwhelmingly in his favour. I congratulate Dalmiya and wish him all the best".
Besides Dalmiya, the other members of his panel swept the polls cornering all posts.
Samar Kar, Shib Kumar Kalyani and Shibaji Dutta, belonging to Dalmiya's group, were elected vice-presidents along with Arijit Roy, who turned into a consensus candidate.
Two others Biswarup Dey and Arun Mitra, polling 75 and 62 votes respectively, bagged the posts of Joint Secretaries while Bablu Ganguly was elected Treasurer with 75 votes.
All five members in Dalmiya's panel were elected to the Trust Board. They are P B Dutta (Chairman), Saradindu Pal, Rabi Mitra, Debabrata Bhattacharjee and Bablu Koley.
Dalmiya, who remained at the helm of affairs of CAB for 13 years before bowing out of office in December 2006, had fought court battles with the BCCI over allegations of misappropriation of PILCOM funds.
"This might give him the toehold he badly required to get into the thick of things in the BCCI and make the powers - that-be bit uncomfortable," one of the Dalmiya supporters said outside the Eden Gardens as cricket fans thronged the park.
"Sourav is perhaps the best cricketer the state has produced who showed the resilience to stage comebacks into the national team. But Dalmiya has shown his ability to bounce back in equal measure", he said.
While Dalmiya's supporters had pointed at Bengal cricket's abysmal fall under the Mukherjee regime, the latter's campaigners had gone around saying that if the former chief was voted back to power it would mean Bengal might lose out on international matches and monetary grants.
Photograph: Deshakalyan Chowdhury/AFP/Getty Images
(PTI)