It's been a long, endless wait for Andrew Flintoff.
The all-rounder hasn't played Test cricket for more than a year -- since the Sydney Test against Australia, where he suffered the ignominy of captaining an England side that was handed its worst Ashes defeat (0-5) in 86 years -- and has been out of limited-overs' action since featuring in the seventh and final one- dayer against India at Lord's last September.
Thereafter, it was five frustrating months sans any cricket. The recurrence of an ankle injury towards the latter half of last year followed by a fourth operation on it meant he couldn't step out on the field till Tuesday.
His first competitive match since September was for the England Lions against Mumbai at the Brabourne Stadium on Tuesday, a match in which he scored only two runs and was never called to bowl.
And it was anything but a comeback. The signs are ominous: it may take a while before Flintoff dons England colours again. But it is to his credit that the 30-year-old is quite realistic about his prospects.
"It's nice to be back playing but I'm not hurrying on with my recovery. I'm going to give my ankle the time to settle down," said Flintoff. "Not playing cricket has been frustrating but I've tried to take the positives out of that, like getting to spend time with my family."
And he does feel that his ankle injury isn't something unusual.
"It's natural. I think bowlers around the world get injured because it (the ankle) is an area of weakness," he reasons.
"The pressure on your ankle is 10-12 times the body weight."
Palpably, getting back to the side is priority.
"I want to get out on the field. But I'm not expecting much, as I know it would be tough to get back now since I haven't played for a while," he says.
"I've been around with the team but haven't been a part of it for a long time now. It's been unfortunate but it is something that I'm trying to get over with."
Even as he continues with his explanation, a scribe asks if he is interested in regaining captaincy.
"I haven't played for a while, so any thought of captaincy isn't realistic," he explains.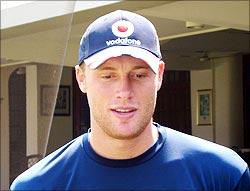 The fact that Flintoff isn't fully fit can be judged from the fact that he's not started to bowl yet. However, the 30-year-old is definitely raring to go down the run-up again.
"I'm yet to bowl. But I'll start bowling at the nets once I get back to Manchester [in the pre-season]," he says.
"From the bowling point of view I'm only 75 percent fit as of now and have set no scheduled time to start bowling again. But I definitely want to continue being a genuine all-rounder."
With the Indian Premier League -- and Wednesday's players' auction -- grabbing the attention of the cricketing world, didn't he fancy his chances at any point?
"No," Flintoff replied, with almost immediate effect. "There's excitement about the IPL, but that isn't something that concerns me. I have my own agenda."
So would he take pains to explain his 'agenda'?
"My concern is to get on the field for Lancashire first -- I've been with them since I was nine and owe it to them -- and then when it happens, for England," he explains.
And then he surprises by explaining a somewhat broader perspective.
"I don't think IPL is an option for the English players," he reasons. "We tour during the winters and also have a county season starting in around the same time (April)."
Even as he puts forth his point of view [regarding the IPL], it is apparent that Flintoff isn't entirely kicked up about the whole idea. And what he says, even as you think, justifies your thought to an extent.
"People say they want rest with such a busy international calendar and now there's yet another tournament," he declared, before putting the brakes on the topic. [Read between the lines, if you please].
Since he's on Indian shores, it is imperative to ask Flintoff what he has to say about India's performance Down Under and its prospects in the Commonwealth Bank series.
"We (England) won the tri-series the last time, coming from almost nowhere to do it. I think in one-day cricket you just need to stitch a few matches together and India definitely has the players to do that."
Coming back to his own career, what can be expected from him when he does start afresh?
"I believe my best years are still in front of me," he says, with a smile. "I'm just being optimistic, keeping my fingers crossed and hoping to get back to the English team."
That is something all hisfans also want for sure!
Photographs: Bikash Mohapatra