He is fast, hard-working, seemingly accurate, a tad inconsistent and definitely a man of few words.
That is Vikram Raj Vir Singh -- VRV Singh for you.
It is not that he measures the length of his sentences before he blurts them out, but it is just that he doesn't believe in being loquacious; he likes his bowling to do most of the talking. Indeed, it is his exploits with the ball that have done the needful this season.
The latest in a string of impressive performances was a workman-like 5 for 91 for North Zone against West Zone in the first innings of the Duleep Trophy final on Tuesday, which considerably helped his team snatch the early initiative in the title round.
Tell him that and he refuses to take credit for it.
"The bounce was good," said VRV, appreciating the nature of the wicket at the Wankhede. "There was considerable help from the wicket and all I had to do was put the ball in the right areas."
Modesty personified, shall we say?
But fact remains that this performance came on the heels of an equally impressive showing in North's previous game against East Zone, where he took 5 for 59 in the first essay and followed it up with three more in the second for match figures of 8-105, despite not being physically fit.
However, VRV refutes arguments regarding his fitness.
"Physically, I wasn't fit before the start of the season, but thereafter things have been all right," he explained. "In the last match I had viral (fever) and was subsequently out for a couple of sessions. But I've not lost out on any matches this season because of fitness."
There's no reason not to believe him. VRV was equally effective in the Ranji Trophy earlier this season. The 23-year-old scalped 15 wickets @ 33.26 to finish the highest wicket-taker for Punjab; his performance was reminiscent of his maiden domestic season in 2004-05, when he took 34 wickets @ 20.67 in seven matches and helped Punjab reach the final.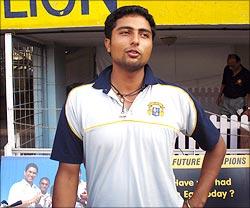 "I have so far had four five-wicket hauls this season," he declares proudly.
While his 7 for 112 against eventual finalists Uttar Pradesh was a great effort, his 5 for 25 against Orissa, which included a hat-trick, gave his team their only win of the season -- in their last group game at that -- as Punjab finished fifth on the table in an otherwise disappointing campaign.
No wonder VRV considers that particular spell the most memorable this season.
"The hat-trick against Orissa was definitely the best," he says. "Especially, after I had finished the first innings without a wicket (0/68). His efforts were rewarded when he was drafted into the Indian squad in Australia as a replacement for the injured Zaheer Khan. And though he did not get to play a game Down Under, he isn't disappointed.
"I didn't play a game but was around for three weeks and used the time to work on my basics," he reasons. "And the interaction with the bowling coach (Venkatesh Prasad) also helped and he did give me good tips."
Needless to say, the time spent in Australia helped him, his 13 wickets in three innings since his return bear testimony.
However, there is still a grey area as far as his bowling is concerned. It is his propensity to step over the line, resulting in quite a few no-balls. In fact, this season he has overstepped on an astounding 60 occasions -- 37 times in four Ranji matches and 23 times in two Duleep Trophy games, including eight in the first innings of the final. And this is something he is very much aware of.
"I'm working on that," he admits. "But sometimes, in trying to gain pace, I do overstep."
That apart, VRV's performance has definitely brought him back in the reckoning and he is now in contention to add to the five Tests and two ODIs that he has in his kitty so far.
Not that it bothers him much.
"If I get wickets in crucial games it will definitely help me in future. But I'm not thinking about it now," he says, adding he's a better bowler now.
"My rhythm has improved considerably," he concludes.
Certainly, it is something one has to agree on; his recent statistics support his performance.
Photographs: Bikash Mohapatra