Great expectations. They are the bane of Indian cricket. One limited-overs international or Test victory by Team India, or a decent performance by a particular player, and hopes skyrocket. Little do fans realise that it is practically impossible for a team, or individual for that matter, to match that level always.
The malaise isn't only at the international level, but has also percolated to the domestic scene too. And one of the victims afflicted by it is Bengal and East Zone seamer Ranadeb Bose.
In the 2006-07 season, the 28-year-old from Kolkata finished with an astounding 57 wickets at an average of 14.23. Only five bowlers have taken more wickets in a single season. In the process, he also posted a world record of bowling 10,708 balls in first-class cricket without over-stepping.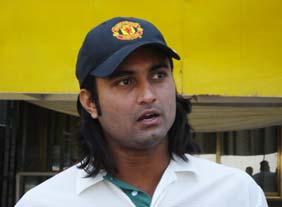 An encore was impossible, and it didn't happen. But Ranadeb's 21 wickets at 2.73 in the 2007-08 season -- although a creditable statistic -- disappointed those who expected a lot from him. While many feel he was out of form, the bowler has an explanation for the decline, one quite convincing and practical as well.
"You wouldn't be asking me this question had I not taken 57 wickets last season," Ranadeb retorted. "It is impossible to take 60-odd wickets every season and I don't think the 30-odd wickets I have taken this season is a bad figure. I'm certainly not out of form."
The comparison between the two seasons, says Ranadeb, is unwarranted.
"Last season we had a great team and reached the final," he reasoned. "This year we lost most of our good players to the Indian Cricket League (ICL) and have been relegated. So there's no point comparing."
Ranadeb, representing East Zone against South Zone in the just-concluded Duleep Trophy match at the Wankhede stadium in Mumbai, took two wickets in the first innings but was severely punished during the last session of the third day as the South batsmen hit him all over the park. His figures read 6-0-38-0 at close of play. But it is to his credit that he came back well on the final day and claimed three wickets, including the vital one of skipper S Badrinath, to play a crucial role in his side's triumph.
"The wicket was helping the batsmen more and it was difficult to either swing or bounce the ball; but it was my job to take wickets," he explained. "I was constantly trying to pitch the ball up and didn't mind being hit for a few boundaries.
"If you remember, it was while playing one such shot that he (Badrinath) lost his wicket and we got the necessary breakthrough," Ranadeb reasoned.
"I was expected to be aggressive and take wickets and I did precisely that."
The Bengal bowler said he gained considerably from his interaction with Dav Whatmore at the National Cricket Academy (NCA) in Bangalore last week.
"I had a good time in Bangalore with Dav and am looking forward to go there again."
Asked if Whatmore knows a thing or two about pace bowling, he shot back, "But he's an Australian!"
Having made the cut for Team India during last year's tour of England, Ranadeb did not feature in any match and was subsequently dropped, despite taking a five-wicket haul in his only tour match against Sri Lanka 'A' at Leicester.
Is he disappointed at having still not made his international debut when his 29th birthday (February 27) is just a few days away?
"It's not easy to play for India. Only a few players make the grade. You have to accept things and carry on in life."
Disappointed, but Ranadeb hasn't lost hope yet.
"I'm still motivated enough to play. When this motivation factor goes I'll retire," he said.
With so much hype and hoopla surrounding the Indian Premier League (IPL) it is quite palpable that he too is interested in the same. In fact, his priorities are clear on it.
"I am looking forward to playing in the IPL… for the Kolkata team," he said.
Asked why he prefers Kolkata when he can easily fit into any other team, Ranadeb, quick to read between the lines, replied with a smile: "Shah Rukh Khan being the owner of the team doesn't matter at all; I just want to play for my city."