It is easier to get slotted in a particular mould but very difficult to come out of it. On most occasions the reputation of a person follows him where he goes. Some try desperately to shirk the tag associated with them while others make amends, and subsequently relish it.
Ramesh Powar belongs to the second category.
Over the years he has built a reputation of taking wickets on surfaces that don't have much help for bowlers. And in case he fails to contribute with the ball, he tries to do so with his bat. His resolute 171-ball 23 not out -- when he occupied the crease for three-and-half hours -- against Saurashtra recently not only enabled Mumbai salvaged a point but also proved a point. That Powar aims to contribute, and most of the times he does.
As a fellow scribe put it, "His job is to pick wickets and he is doing that. If he scores, that is a bonus."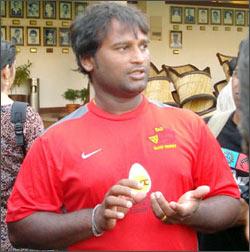 After snaring 24 wickets in seven matches last season in what was largely a disappointing campaign for Mumbai, Powar started the ongoing season with a bang -- a fiver against Rajasthan.
And in the five matches played thus far -- and that includes the ongoing Ranji match against Hyderabad -- the 30-year-old has so far claimed 20 wickets. More importantly, he has done his reputation no harm by picking most of his scalps on placid tracks that offer bowlers no help whatsoever.
- Of placid wickets and a tight schedule
The Mumbai Cricket Association facility at the Bandra Kurla Complex falls into the category and Powar's first innings figures of five for 67 assumes certain significance.
So what is it that enables him to take wickets on surfaces like these, where bowlers usually tend to struggle?
"On these wickets it is necessary to be patient and play on a batsman's mind," says Powar, matter-of-factly.
That is exactly what he did.
 "I stuck to a line. The wicket was offering no turn, but in the morning there was a little breeze and that helped as the ball was drifting a bit," he explained.
"I tried to bowl tight and hoped that the players made mistakes."
Powar's perseverance paid off handsomely as Hyderabad collapsed from 136 for 2 to 251 all out, giving hosts Mumbai a first innings lead of 351.
Following on, the visitors were 166 for 4 at close of play, needing 185 more to make Mumbai bat again.
Besides the above-mentioned aspect, there was another thing that inspired Powar to go for glory.
"In a practice game here just before the start of this season, I bowled 20-odd overs but didn't get a wicket," recalled Powar. "That time I was very upset. So when I got my first wicket today I became ecstatic."
Mumbai bowlers seemed affected by the fatigue factor after a long day's play and struggled in the second innings and Powar made no excuses about it.
"I will be honest; it was tiring," he admitted.
But his first innings exploits alone had won him a few admires. 
"He bowled really well. The rest of the spinners had no variation but he was flighting the ball well," said D B Ravi Teja, who scored an aggressive unbeaten 107 to keep alive Hyderabad's hopes of saving the match.
"He is the kind of bowler who gives runs in order to take wickets," he added.
Those who know Powar well will surely agree with the second statement.