The opening day of the Ranji Trophy Super League Group 'A' tie between Mumbai and Hyderabad was a strange one, at times bordering on the bizarre. Being held close on the heels of the terror attacks in Mumbai, which some shamelessly lablled as India's 9/11 and others took offence to the same, it had beefed-up security, quite unusual for a Ranji match.
Played at the relatively new MCA facility at the Bandra-Kurla Complex, the arrangements were not exactly comparable to the comforts of the Brabourne (CCI) or even Wankhede stadium. And, to add to it, the attendance of the media was cent per cent -- usually the electronic media prefers to skip matches at this level unless there happens to be star attraction or an urgent requirement.
In this case there was a bit of both: Sachin Tendulkar had made an appearance on the eve of the match. Obviously, there was the necessity for a quote or two from the various players as regard the recent terror attacks (read the human interest angle).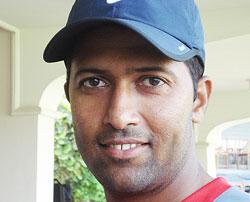 For a few fanatics (yes, most scribes are also big fans), it was opportunity to support the local team. Mumbai, after a poor campaign last fall, started brightly this season -- two outright wins over Rajasthan and Gujarat and more points on the basis of their first innings lead against defending champions Delhi.
But in their last match against Saurashtra, the Wasim Jaffer-led side stuttered, complained (of a bad wicket) and, to put it bluntly, failed. And with Hyderabad playing this match sans captain VVS Laxman, there was hope for the home team.
Whatever be the reason, there were more people present to cover the match than watch it. And what they witnessed during the course of the day gave them enough fodder to speak or write about prolifically.
Yours truly is doing precisely that.
The day witnessed some aggressive, breathtaking batting and a record being broken. And there were two batsmen who called the shots. Mumbai captain Wasim Jaffer and upstart Ajinkya Rahane scored big hundreds, and, in the process, put on a record 328 runs in 79.1 overs, occupying the crease for more than five hours.
What more, they were still going strong at stumps.
Jaffer's unbeaten double century (204) was his 34th first class three-figure knock (sixth double hundred) -- and also his 19th for Mumbai; it came off just 268 balls and contained 21 fours and two huge sixes. No wonder he was ecstatic with his effort.
"I got 172 against Gujarat and a few 170s, so I was keen to get a double hundred," reasoned Jaffer.
"Today probably that milestone played a big role and motivated me to make big runs."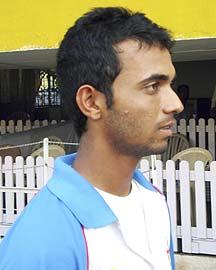 His partner, Rahane, also continued with his impressive form that saw him score centuries against Gujarat (104) and Delhi (160). His unbeaten 137 was studded with 11 fours and a six. He wasted no time in giving credit to his captain.
"I get confidence from his batting," admitted Rahane. "When we bat together, we know we have to do it. And since we both play for Indian Oil as well, we have a better understanding.
"We put on 352 versus England Lions in the Duleep Trophy and 218 against Gujarat recently."
Jaffer, in turn, was also prolific in his praise for his younger teammate.
"He's batting really well this season. He plays his shots and makes things easier for me," said Jaffer. "Last season he got only one hundred and used to get out in the 30s and 40s often. He has become more fluent now.
"The pressure is off him as he now knows that his place in the team is relatively certain."
One may think for a while that both went a bit overboard in praising each other. But, come to think of it, besides their on-the-field record, whatever they said was also going on record!