Irfan Pathan may have been declared the Man of the Match for his outstanding bowling in the Twenty20 World Cup final that India won against Pakistan in Johannesburg in South Africa on Monday, but his brother Yusuf Khan Pathan was also not less impressive in terms of all-round performance befitting the very nature of the latest version of the game.
Yusuf scored a whirlwind 15 (8 balls, 1 x 4, 1 x 6), took the crucial wicket of the Pakistan captain Shoaib Malik and caught dangerman Younis Khan off Joginder Sharma. Not bad for a debutant, and that also in the final of a world championship.
Indeed, the elder Pathan must consider himself very fortunate that Team India won the inaugural Twenty20 World Cup on his maiden appearance for the country.
Contrary to common perception, the hard-hitting batsman, useful off-spinner and brilliant fielder (particularly in the slips) made it to the Indian team more on the strength of his aggressive approach to the game and impressive showing in the inter-state Twenty20 cricket tournament earlier this year than his performance in the last first-class season.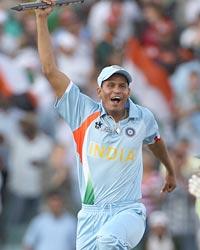 Though the 24-year-old Yusuf did not disappoint and performed creditably, there were others who outshone him with bat as well as ball. But few could match him when it came to striking the ball savagely. Hence, his selection for the South African safari ahead of several others with better track record, all things considered.
Yusuf's impressive performance in the grand finale of the Twenty20 World Cup in Johannesburg ought to do him a world of good and enable him emerge from the enormous shadow Irfan has cast over him for obvious reasons.
"Yusuf's skills with bat and ball aren't ordinary. It's just that he got the exposure a bit late compared to Irfan. I think they should have played him in the West Zone much earlier. You can't separate Yusuf from Irfan in terms of talent. They have plenty of them in the two major departments of the game. They're sincere, committed and dedicated cricketers. Yusuf is a bit flamboyant with the bat because he tends to be attacking at the crease and loves to play his shots all the time.
"On the other hand, Irfan is more disciplined than Yusuf, although he too can be aggressive when the situation demands. I am delighted Yusuf justified his selection and performed brilliantly in the final. Of course, I am equally delighted for Irfan, too, who was chosen as the Man of the Final," well-known coach Mehendi Sheikh, who has coached the Pathans and many other Ranji Trophy players, told rediff.com.
"While Irfan is a natural medium-pacer, Yusuf has developed into a good off-spinner. And this is obviously a noticeable difference between the two. Considering the basic aggressive streak in them, Twenty20 cricket comes as naturally to them as one-day cricket. With a bit of adjustment and improvement in his bowling, Yusuf will emerge as a very good all-rounder. What he needs is constant encouragement. I'm sure there will be plenty of it for him now that he has proved his ability on the big stage."
Nayan Mongia is one of those who has seen the steady rise of the Pathans.
"Yusuf is the kind of player who can lift the morale of the whole team with his on-field aggression. He is capable of scoring some very quick runs in double-quick time and that is what Twenty20 cricket is all about," the former Baroda and Indian wicketkeeper-batsman said.
"But cricket isn't all about Twenty20 only. It's much more than that and Yusuf has to work on his defensive technique also. International cricket is a different ball game altogether. He has also to work a lot on his bowling to call himself an allrounder. But he is a hard-working chap and I'm sure he'll be a much better cricketer with more and more exposure," added Mongia.
"Yusuf has long emerged from Irfan's shadow. He has got the break at a time when India badly needs some really good allrounders. Besides his aggressive batting, the fact that he is a handy all-rounder had paved the way for his entry into the national Twenty20 side for the World Cup. As expected, he justified his selection and didn't disappoint any," said former Ranji Trophy player Rakesh Parikh, who is now the joint secretary of Baroda Cricket Association.
Like his younger sibling, Yusuf was also a star performer in the various junior tournaments conducted by the Board of Control for Cricket in India. He made his first-class debut against Saurashtra in 2001-02, and since then he is quite consistent regardless of a few ups and downs here and there in between.
The Baroda all-rounder may not have set the Vishwamitri on fire, but he has proved his value to his team more often than not.
With Irfan remaining away on national duty most of the time, the focus has invariably been on Yusuf in the Baroda team. And he seldom or never let Baroda down. He relishes a challenge and it reflects in his more impressive performance in limited-overs cricket.
Yusuf is a kind of a player that India is just looking for when it comes to one-day cricket. He has proved his capability in Twenty20. And it will not be too long before he becomes a regular member of India's one-day team. It would be an apt reward for Yusuf, who, along with his brother, has been showered with cash awards from the BCCI, the BCA, the Gujarat government and other organisations.
Photograph: Getty Images