Wickets in India have over the years been a constant source for debate.
While Indians prefer playing on the slow turners, visitors often believe it gives the hosts an unfair advantage.
- Batsmen today are a pampered lot: Daljit Singh
But Board of Control for Cricket in India pitches committee chairman Daljit Singh believes there is nothing wrong in having home advantage, since every country has its characteristics as far pitches are concerned.
"When we got to Australia what do we expect? We expect fast, bouncy wickets. When people come to India they expect wickets that will turn and I don't think there is any element of unfairness in that. A certain degree of home advantage is always there," he told rediff.com in an exclusive interview.
Singh, along with Punjab Cricket Association president I S Bindra, is famous for turning the Mohali stadium into one of the best in the world. The stadium not only boasts of world class stands but also top-class outfield and wicket.
The 70-year-old Daljit says it is natural to find visiting teams struggle in India since they are new to the conditions and pitches.
"Our players always play Test cricket on this venue, but for Pakistan some players are coming back after a long time, while others are completely new to the venues here. So there is always an element of home advantage. But these days the drastic thing of doctoring pitches is definitely not there," Singh said.
Besides Daljit, the BCCI pitches committee comprises four other zonal representatives -- Robin Mukherjee (East Zone), Dhiraj Prasanna (West Zone), P R Vishwanath (South Zone) and Kishore Pradhan (Central Zone).
The committee is striving to bring professionalism in the set-up. Every effort is being made to ensure that fair pitches are dished out for any level of cricket played in the country.
"In domestic cricket, the emphasis now is to produce fair wickets. The Board has now issued a guideline to the associations that any BCCI match, whether it is Under-15, Under-19 or Ranji Trophy or any BCCI-categorised tournament, the pitch must start with grass and a little bit of moisture on the first day. That is the general guideline for all associations," Singh said.
- Vengsarkar calls for bouncy wickets
The veteran curator said though guidelines have been issued, the application of the same is taking time since many curators have been following traditional methods for a long.
Hence, his committee is focused on imparting training to tune the others with the latest developments in preparing pitches and outfields.
"All this is to ensure that on the first day the ball does not start turning or keeping low.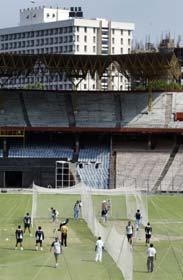 "Also, they have been asked to make efforts to produce hard, bouncy tracks. It encourages stroke-play and encourages catches going to the slip region. Over a period of time with the wear and tear, the spinners must get turn and bounce. These are general guidelines but the application is taking some time because obviously people have to be trained and made aware of how it has to be done.
"I think Indian people work harder than anybody in the ground. In the other countries there is too much emphasis on technology, but in India we have a good mix of technology and committed manpower," he said.
Singh, a former Ranji Trophy player and coach for Punjab, said the BCCI is very serious about the issue of improving the quality of pitches and that has come as a big boost.
"Overall, the standard of wickets and grounds is improving and it is mainly because the BCCI is giving a lot of emphasis. Recently, they invited a global tender and the state of the art machinery has been provided to all the 27 associations in India and that includes the remotest associations, whether it is Jammu and Kashmir, Kerala, Gujarat or Assam. They have got the latest equipments from the best manufacturers in the world," he said.
Daljit says Chennai has the best Test wicket in India and credits the ground staff for their stupendous effort in preparing result-oriented pitches.
- Domestic pitches not my fault: Sundaram
"I think Chennai is the best Test wicket in India. The wickets there are good and it always gives a result. If you see the weather in Chennai, it is hot, hotter and hottest and there is no other season there. So over five days, the pitch will degenerate and wear out. But if you see in the North, you have good wickets, but if you have Test match there in November, December or October it is very difficult for the wicket to wear out like in warmer places. I think the Chennai ground staff is very good in preparing wickets."
"I think the Baroda wicket is also good. Similarly, Wankhede, Mohali and Nagpur are very good wickets. Eden Gardens with whatever they have, they seem to produce good wickets. The Ferozshah Kotla wicket is also being done and I think in a year or so you will see a good wicket there," he added.
Daljit said with the amount of cricket being played in India, the curators don't have enough time to work on the pitches.
"What is happening is that the grounds are not getting any breaks. You need a break to test wickets, prepare the ground, but you are not getting it," he said.
The pitch committee, said Daljit, is carrying out numerous improvement programmes, like training curators, testing soil for pitches and grass for outfield.
"We will be having training programmes for curators and turf managers. Many such other improvements are coming up so we will just need to give it a couple of years.
"We are also doing research on the suitable soil for pitches and suitable grass for pitches. So, all that put together, I think in two years we should have the best domestic ground and pitches set-up in the world. Nothing can hold us back because the Board is very willing, money is not a problem and know-how is also not a problem now," he added.
Daljit said it is not easy having uniformity in pitches throughout the country since the climate and conditions vary in different regions.
"We must be honest about this because the kind of bounce we will get in Kolkata will be different from the bounce we get in Mohali. The amount of side spin you will get in Chennai will be different from the side spin you get at Kotla. India is a vast country; in fact it is like a continent and the weather and soil is different in every region. The wear and tear is also different and the methods used to produce pitches are also different," he said.
The pitches committee chief said even touring teams now come prepared for the conditions and there should not be any case for complain.
"I think it is a very fair deal. Eden Gardens is Eden Gardens and the wicket will behave as it has been doing. Nobody can have a magic wand and say that it will become a wicket like Perth. That won't happen because it is what it is. So when people come to Eden Garden they will check the record of the last five matches and see how it has gone and who has taken the wickets. They will see whether the spinners have taken wickets or fast bowlers or medium pacers so generally people do their homework these days," he said.
He believes that every wicket has it's own characteristics and no matter how hard one tried it will not change a great deal.
"Eden Gardens has a typical character; it will be more less the same. If people who have seen matches in the past here, it will be a similar wicket. It will provide an absorbing contest, a keen tussle between the bat and the ball. It will not provide a lot of bounce or the ball going very high, but it will definitely provide absorbing cricket," he says.
The BCCI has roped in experts from IIT Mumbai to help with testing of soil all over India.
"We have been checking the type of sand, soil, the amount of clay. Then we conduct the shrinkage test, crushing test, immersion and dispersion test.
These tests are basically done to find out the quality of soil used. If the pitches are not upto the mark then we look for a different soil," he said.