"If babies had coaches to teach them to walk, most of us would be still crawling on all fours," Greg Chappell says.
With that one sentence, he appears to be under-cutting his own assignment, as head coach of the Rajasthan Cricket Academy, housed in the Sawai Man Singh Stadium in Jaipur, and as the man tasked with unearthing the next generation of cricketers from the state.
"Think of how a coach would teach a kid to walk," he says as we stand on a little hillock, watching the latest group of raw talent tackle an army obstacle course. "He would say you have to push from the arms, transfer the weight to the upper torso, load the weight onto the thighs and calves, and then push upright…
"Put that way, it becomes a complicated process, it becomes confusing. But that is not how the baby learns. He has in his mind the objective, which is to stand up, and move forward. He pushes himself up, loses equilibrium, and falls flat. But when he fails enough times, he begins to work out the sequence, and finally he gets it right, and he learns to stand, and to walk, without falling over.
"What can his coach, his parents, do? Encourage him to walk, gently assist him when absolutely necessary, let him fall but encourage him to pick himself up again. The coach needs to create the environment, define the goals – and then let the kid work it out for himself. Cricket coaching is no different."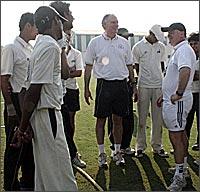 In course of a day and a half that we spent with Chappell and his coaching alter ego, Ian Frazer, in Jaipur, the former coach of the national cricket team talks with trademark eloquence on cricket, and on coaching; transcripts indicate that the unedited version of all that he had to say runs in excess of 20,000 words.
And yet this one analogy pretty much sums it all up – what he and Frazer are there to do, and the thinking underlying the coaching program they are putting in place.
One of his first acts was to devise a logo, which adorns the sponsored shirts the wards wear. It features the Ashoka Chakra, bracketed by the words 'Movement' and 'Change'. "That sums us up," Chappell explains. "We are about moving forward within the Indian context, and to do that, you have to do things differently from the old ways, you have to change."
The RCA, sponsored by the Future Group comprising fashion outlet Pantaloon and retail giant Big Bazaar, is still semi-official; its formal inauguration, to be attended by the who's who of the cricket establishment, is scheduled for November 16.
It has, however, been functioning full blast since October 2, when Chappell and Frazer got down to business; in the time between then and now, it has seen 44 young kids, aged between 15-19, pass through its doors. The ongoing group is the third, and there are three more to follow.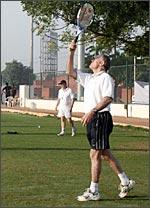 THE academy is a homogenous unit, but conceptually, you could divide it into two component parts. The first is the infrastructure, courtesy Rajasthan Cricket Association president Lalit Modi, and the second is the program, that has been worked out by Chappell and Frazer.
The infrastructure, located behind the Sawai Man Singh Stadium, is impressive in itself. Its centerpiece is a 30-room academy building that incorporates boarding facilities for the trainees; a fully equipped kitchen, laundry and other facilities that are requisite in a boarding facility; a state of the art gym; a swimming pool, sauna, and steam room, all comprising the skeleton.
And then there are the state of the art add-ons. Cameras will cover every inch of the facility; the live feed will go directly to the net, so parents, for instance, can log on and see what their children are up to during their training.
Modi has roped in computer giant IBM to set up, in the basement, an e-library that will be stocked with cricket literature, cricket and training videos, all of which will be accessible to the wards. In addition, all practice sessions will be videotaped with multiple cameras and angles; when the hostel becomes operational, each room will be equipped with a computer on which the trainee can call up these videos to review his own performance, and that of his mates.
The grounds surrounding this facility are being divided into 24 practice pitches, and one "cricket ring". "The pitches will offer different conditions, different challenges," Chappell says. "There will be fast pitches, turning tracks, dead tracks, pitches with extraordinary bounce or turn, even pitches that are broken up, to provide near impossible conditions for batting.
"There will be cement pitches and Astroturf ones as well, and sessions will rotate through all these pitches, the players will do the circuit. We will also use different kinds of balls, everything from golf balls to tennis balls, harder rubber balls, cricket balls… and sessions will switch rapidly from one type of condition and one type of ball to another. The idea is to create versatile cricketers, who can adapt in a jiffy to any sort of pitch, to all kinds of conditions."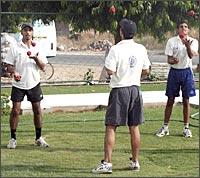 The cricket ring is a concept Chappell and Frazer have borrowed from Brazilian soccer. "On a full-scale ground, football players will be able to get away because of their speed. In Sao Paulo, we saw trainees practicing in a ring – a soccer pitch that is considerably smaller in size.
"They play with a heavier ball, and because the ground is small and the opposition is closer to you, you don't have room to run away from them, to use your speed. Therefore, you are forced to rely on your skills, to improve your skills. We have adapted that technique to suit cricket, and come up with the concept of a cricket ring, in which the trainees will play simulated matches in varying conditions, as a means of honing their skill sets."
The functioning of the academy is on simple lines. Starting October 2, when the Future Cricket Academy informally opened for business, the academy takes in groups of young hopefuls, ranging in age from 15-19, drawn from all across the state.
The kids are housed in a city hostel; once the academy is formally inaugurated on November 16, they will take up residence on the premises.
Each group of 22 trainees goes through a 10-day training period; at the end, they are evaluated in one on one sessions with the two head coaches, and sent back home with a report card and suggestions on how they can continue their practice, and what they should focus on.
Early next year, the various groups will be brought back, one at a time. The progress they have made on their own will be evaluated; the training will be stepped up and towards the end, they will play three simulated matches each day using the 'cricket ring' concept; these matches will cycle through the various pitches and conditions.
At the end, the best players will be identified, and brought together as the core group on which the future of Rajasthan cricket will be built. This group will take up residence at the academy, and the intensity of the coaching will be stepped up.
Also read: Rajasthan's Generation Next - Part II
Photographs: Reuben N V