Former India wicket-keeper Farokh Engineer is a disappointed man. Not often do you see someone coming forward with a helping hand and getting snubbed in return.
Engineer, given his experience of English conditions, had offered to help the Indian team during their tour of England next month, but the Board of Control for Cricket in India gave him the cold shoulder.
"I had offered to help the team in England, but I was surprised that nobody got back to me. I have so much experience of conditions here in England and would have been of great help since they have no coach. I am not asking for a single rupee. I wanted to do it for my country, but still they showed no interest at all," Engineer told rediff.com in a telephone conversation from London.
"I know the game inside out and I think I would have been the ideal person for these conditions. But I don't know what the BCCI thinks, it really surprises me," the veteran added.
The 69-year-old Mumbai-born Engineer expressed his surprise at Chandu Borde's appointment as the team's manager, adding, "If they wanted someone with experience they could have asked me since I have been living in England for so many years now."
"Chandu is a good old friend," Engineer, who played alongside Borde through much of the 1960s, said, "but I don't think he will get too involved. His main job would to raise confidence and motivate them. His position is a more honorary one and would be called upon to give speeches and all during the tour."
Engineer said he is disappointed to know that such high-profile appointments are not based on experience.
"When I was in India during the ICC Champions Trophy I had spoken to the Board about helping the team in England, but I was told that the appointments are political," he added.
He said he was shocked that Dilip Vengsarkar, chairman of the selectors, chose to remain silent over the issue.
"I had spoken to Dilip, but it seems even he did not speak to the Board about it. I am surprised even Sunil (Gavaskar) did not have a word with the Board about me. He knows I have been staying in England and could have contributed," added Engineer, a senior vice-president at the Lancashire Cricket Club, home of England star Andrew Flintoff.
Photograph: Farokh Engineer in action against England at Edgbaston in July 1974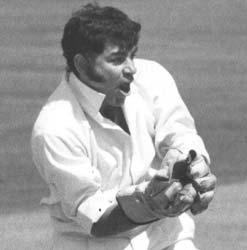 Despite the BCCI's snub, Engineer said he would always be available for Rahul Dravid and his boys.
"I just wanted to do something for the country, but they (the BCCI) did not let me. Still I will be available for the Indian team whenever they need my help. I am still behind the boys, after all, sab hamare bacche hain (they are like my children)," he added.
Engineer recalled an incident with regard to Sachin Tendulkar's first Test century, at Old Trafford in 1990. "He was at my house for a barbecue dinner the previous night and the next day he scored a century," he said.
"Sometimes when he is going through a bad patch he jokes to me, 'Farokhbhai, can I come to our house for a barbecue'," Engineer said.
The flamboyant wicket-keeper, who played 46 Tests for India from 1961 to 1975, says the key to batting in England is to play the ball late.
"In England the ball swings much more than India or any other country," he pointed out. "That is why you must play the ball as late as possible and look to leave as much as you can early on. The West Indies did exactly the opposite and played too early. They kept repeating the same mistake again and again."
Engineer, who was regarded as one of India's finest wicket-keepers, gave his thumbs up to both Dinesh Karthik and Mahendra Singh Dhoni and said both men deserve to be in the team.
"There is nothing wrong in playing two wicket-keepers in one team if they are doing well. Dinesh Karthik has done exceedingly well as a batsman. Last year I saw him keeping wickets here and he was brilliant behind the stumps. And with regards to his opening the batting I don't think there is anyone better than him at the position, so you have no choice really."
"Even Dhoni has been a revelation since he came into the Indian team. His explosive batting, wicket-keeping style, long hair and good looks all have made him such a lovable character," Engineer felt.
He said the experienced campaigners in Tendulkar, Dravid, Saurav Ganguly and Anil Kumble will need to take more responsibility in the absence of a regular coach.
"Dravid has been like a father figure for the team for some time now. Tendulkar, Kumble and Ganguly will have to take more responsibility and guide the juniors because England is not an easy place. This is their last tour to this country so we are expecting that they can bow out on a high," Engineer said.
He also has advice for the young pace duo of Ranadeb Bose and Ishant Sharma, who have been picked for the Tests.
"Just ask them to bowl a good line and length," Engineer said. "It doesn't matter if you have to compromise on speed, but keep it tight."
He slammed the BCCI for its inability to find a coach for the Indian team. After Greg Chappell's departure following the World Cup debacle, India is yet to find a permanent coach.
Ravi Shastri was appointed caretaker manager for the Bangladesh tour. Borde has the responsibility for the twin tours of Ireland and England.
Dav Whatmore, Graham Ford and John Emburey had discussions with the Board, but nothing came out of it. Ford was offered the job, but declined to take up the job.
"The entire coach selection process was a farce. Calling them to India, interviewing them and then being refused, it all did not make any sense. The major problem with Indian cricket is that there is no input coming in from anywhere and that is why we see all these problems," Engineer added.
He believes if Flintoff is fully fit, he will play a major role in the Test series.
"He is my best friend and I know if he is fully fit, he will surely play. I must tell you, with Freddie in the side, England will be twice as good as now. He is a very dangerous all-rounder and can turn the match with both the bat and the ball," he said.
On being asked to predict the outcome of the series, he said: "My heart says India...aakhir dil hain Hindustani."
"I just hope that they can learn quickly and adapt to the conditions. They will make mistakes at the start. That everyone does. But it is important to learn from their mistakes. And yes if they want my advice, they can always can call me. I will always be there for them," he said.
"I will be there at most of the venues -- Lord's, the Oval -- so any time they need me I will be available. Hopefully, they will call me."
Text photograph credit: Allsport Hulton/Archive