Since making his foray into international cricket in 2000 as a youngster, Mohammad Kaif has seen it all. He has played 125 One-Day Internationals and 13 Tests, but is yet to find a permanent slot in the Indian team.
In the recently-concluded series in South Africa, which India lost 0-4, he was unable to make an impact, failing in the three One-Day Internationals that he got a chance to play in. Now he is back playing domestic cricket, aiming to regain form and return to the Indian team.
"There is no guarantee that you come back to domestic cricket, score runs and get better. It can be both ways. It's not easy, otherwise I would be back scoring century in every match or Irfan (Pathan) would take five wickets in every match. So you need to start from the basics and keep working hard," he said last week after playing the Ranji Trophy match against Baroda in Vadodara.
Uttar Pradesh's captain believes the best way to impress the selectors is by putting up consistent scores in domestic cricket. So far he hasn't enjoyed a good run in the eight matches he has played, scoring 223 runs at 27.87, which also includes a pair (0 and 0) against Haryana last month.
"It's not easy for any player to be in and out of the team and also have a batting number between 3 to 7. So it can be tough to motivate yourself when you come back to play for your state and travel around the country.
"You get a chance to make your mark, play well and make a point to the selectors, because you have been playing and scored some runs. So it's a signal to the selectors that you have been scoring runs and working hard. It's not easy, but I try to enjoy it," says Kaif.
The 26 year old had a good time in the ODI series in the West Indies last year, where he scored three half-centuries in five matches, but failed to get going after that, partly due to the fact that he was dropped and shuffled in the batting order. But he believes he will be a part of India's plans for the World Cup in the Caribbean in March.
"I am not thinking about the World Cup," he says, adding, "definitely I would like to be part of the team for the tournament."
Kaif feels fitness would be crucial on the slow pitches in the Caribbean.
"The conditions in the West Indies are challenging because it is hot and humid. The wickets are slow, so the batsmen really need to work hard to score runs. When we played a series last year it was low-scoring. The wickets are slow so you need to be fit to score singles and doubles, since it is hard to hit boundaries after the first 15, 20 overs, when the fielding restricitions are over."
"You could hit sixes, but boundaries are a problem, because of the slow outfield and the ball getting softer. Fielding and running between the wickets are very, very important in such conditions."
"If you remember one of the matches of the ODI series we played in the West Indies, Dwayne Bravo scored a fifty, but he hit just a single four and ran a lot of twos. The ball doesn't really travel too fast there unless you hit a very good shot," he added.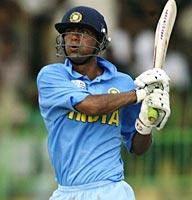 Kaif, who will be best remembered for his knock in India's record chase in the NatWest Series final against England in 2002, says he doesn't let disappointment affect him.
"I am used to it (being dropped) now. Previously it used to affect me a lot. I was sad when I was dropped after the Tests against Australia (in 2004). I thought I was doing a good job. Then I was not picked for the Bangladesh Tests, so it all started from there, but now I am used to it."
"I don't think too much about it; what I do is try and focus on what is in my control. You can't keep thinking about not getting picked. Of course, I will be disappointed, but you got to move on," he said.
On not getting a permanent place in the team after the three half-centuries in the West Indies, he said: "Yes, it can be really tough on the individual, but I don't want to say anything on it. I just want to take the positives from it. I am just looking at playing domestic cricket, scoring runs. I am just trying to see what mistakes I made and try to work on it and look to correct it. It can be mentally very challenging to come back and keep improving."
Kaif feels it is very tough on a player if he does not get a long enough run to prove his worth.
"It can be very tough when you play one game, then you get dropped and then play again. Sometimes you are also not sure of your position in the batting order. It is all for the team, so you got to take it. Whatever the captain or coach says you got to listen to it. It can't be taken as an excuse that if I had got more chances or got the batting position I wanted I would have done better."
"Ups and downs are part of life. You can't always be going up, sometimes there are downs too. As a player, you are trying your best and looking to contribute to the team. Just take it in a positive manner and keep working. After all, it is just a game so just enjoy."