Lest we jump to conclusions, Kevin Pietersen denies that he lives by the Andre Agassi dictum -- Image is everything.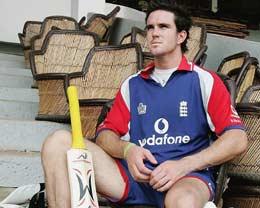 "I have never tried to build up an image," said the colourful England batsman, not so colourful now without his famous skunk look.
And no, he did not remove it because he was going visiting Queen Elizabeth II at Buckingham Palace last Monday, when the Ashes team was honoured with MBEs (Members of the British Empire).
"I don't care what people think of me. As long as I am scoring the runs, working hard and doing my business I don't care if they think I am a slugger or a hacker or a monkey."
Certainly, he did not look anything like that when addressing the media in Mumbai after a full net session earlier on Wednesday morning, but seemed somewhat touchy when asked about his 'unorthodox' batting in Tests.
"Why am I unorthodox?" he shot back.
"There are so many attacking batsman in Tests. India has Virender Sehwag, and the wicketkeeper, (Mahendra Singh) Dhoni. Phew, these guys hit more shots in 10 balls than I hit in a score of 150.
"But it's not slogging. It's proper cricketing shots. It's same for me and for Freddie (Andrew Flintoff). It brings entertainment and is great for the game."
Though the flambouyant batsman was laid low due to injury the past four weeks, he is confident of getting back into form against India.
"It was fantastic. Just spending time with my mum and dad, my brothers and nieces... was great. I don't remember when I had two months off. And I am really looking forward to playing cricket again. It's not something I would've said about two weeks ago."
Pietersen, who left South Africa because of the country's quota system for coloured players and joined county cricket to be eligible to play for England, was glad though that the booing had long stopped since he scored three hundreds against the South Africans at home and helped England win the series.
"There were no arguments. There was nothing malicious said about it," said the 25 year old of his recent visit to Durban.
The experience of touring India with England 'A' in 2003-2004 and celebrating Christmas with his family in South Africa after five years seems to have given him the extra boost.
"The muscles are getting back into shape and, thankfully, there is no pain. I just feel uncomfortable about it just now because of not having played cricket for so long."
Though he scored four centuries during the 'A' tour, Pietersen believes his first international assignment in India is going to be a whole new challenge.
"The Ashes series was completely mind-sapping and then we had a tough Pakistan tour. Playing in India is also going to be tough for us. I take the confidence factor of doing well in India on the 'A' tour, but facing bowlers like Harbhajan (Singh), (Anil) Kumble and (Irfan) Pathan is going to be completely different.
"It is good that I can adapt quickly and am a quick learner. You need to know your game inside out to play in the subcontinent. We have been practising accordingly, trying to get our quick bowlers change angles to get somewhat used to the conditions and the left-arm pacemen from India. We will have to be patient, but I won't be making any changes in the batting technique as such for the Indian bowlers and pitches."
He may have sounded eloquent in front of the microphone, but let's hope the man retains that respect for the Indian bowlers with bat in his hand.