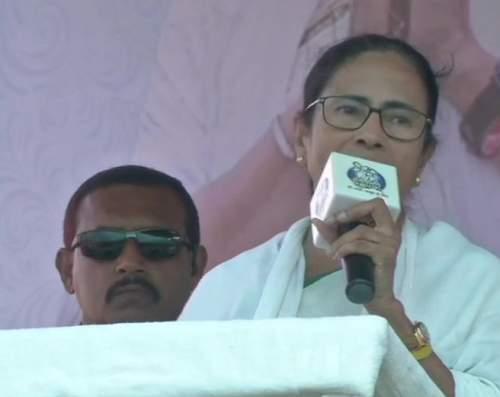 Chief Minister Mamata Banerjee addresses a rally in Mathurapur, West Bengal where rained fire and brimstone at PM Narendra Modi and Amit Shah and the BJP.
Slamming Modi for saying the TMC was responsible for the desecration of Vidyasagar's bust on May 14, Mamata said he was a liar and should be made to do sit-ups.
She also threw in the colourful descriptive 'shaitan' while referring to Amit
Shah and Modi.
She said Bengalis will not vote for the BJP. "Those who are supporting the BJP just for money won't be accepted by people."
She said she was not afraid of anyone. "They do not know I am unstoppable."
She said the BJP and the EC were in cahoots. "We got to know that BJP complained to the Election Commission. EC is a brother of BJP, it has been sold to the hands of the BJP. And I am ready to go to jail for this. But I have and will continue to tell the truth, that is my policy," Mamata said.
She said the BJP was attacking Bengali culture and hurting Bengali sentiments and destroying India.
The Lok Sabha seat of Mathurapur in South 24 Parganas is held by the TMC.