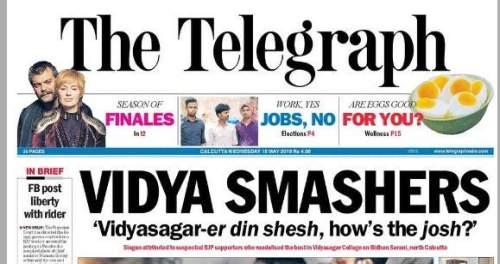 Enter, Ishwarchandra Vidyasagar.
One of the greatest names of the Bengal Renaissance has been pitchforked into the final lap of an election so far yoked to muscular nationalism, calumny and preposterous claims.
Smashed to pieces by suspected BJP supporters, a bust of the polymath appears to have brought to the fore a culture clash that has marked the BJP's foray into Bengal.
The vandalism, which carries the whiff of a targeted attack as the bust was accessed by smashing a glass case, has offered chief minister Mamata Banerjee a chance to underscore how Bengal's pride has been trampled upon.
Mamata sought to paint the opponent as a group incapable of respecting Bengal's cultural stalwarts. "I don't have words to condemn the incident. I'm myself ashamed and I apologise' that as people of Bengal, we cannot respect Ishwarchandra Vidyasagar because of these BJP goons. These leaders will be leaders of the nation? Those who cannot show respect for the icons?' Courage is good, not dussahas',' the Trinamul leader said.
Image: The front page of the Telegraph newspaper today.