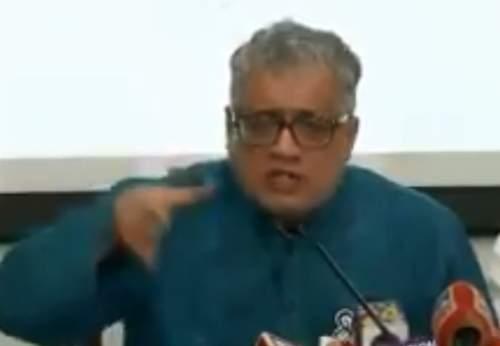 Trinamool Congress spokesperson Derek O'Brien holds a press conference over the violence and the desecration of the bust of the reformist Ishwar Chanrdra Vidyasagar during BJP president Amit Shah's road show in north Kolkata yesterday.
O' Brien hits out at Amit Shah saying, "I do not have words to condemn the incident. I am myself ashamed... that, as people of Bengal, we cannot respect Ishwarchandra Vidyasagar because of these BJP goons. These leaders will be leaders of the nation? Those who cannot respect icons?"
Answering a question on Amit Shah's presser where the BJP president alleged that the TMC was responsible for the violation and the desecration, O'Brien said, "Amit Shah is a con-master. Amit Shah is a liar."
"Anybody can come and do a procession, but what were the outsiders doing there... Who is this fellow Tejinder Bagga? Who is he? He was arrested, is he not the same guy who slapped somebody in Delhi? You have taken in your outsider goons.
"BJP hired goons from outside. We are not alleging that the BJP is responsible for the desecration of the Vidyasagar's statue, we have proof that they did it. The video is proof. "