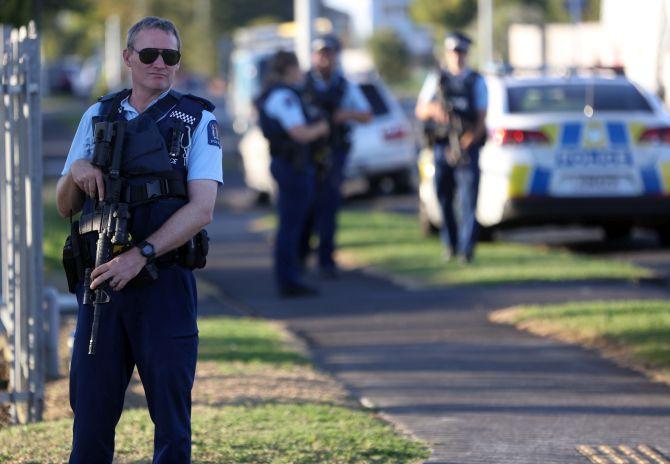 A 28-year-old suspect, identified as Brenton Harrison Tarrant appeared before the court on Saturday on murder charges connected with Friday's terror attacks in Christchurch, which left at least 49 people dead. He was remanded in custody without plea until April 5.
The terror attack suspect, who live-streamed for about 17 minutes his rampage through two mosques, is an Australian-born citizen and is a resident of Dunedin, situated around 360 km south of Christchurch.
The suspect appeared before a Christchurch court on murder charges, in white prison clothing, barefoot and handcuffed. Flanked by two police officers, he smirked when media persons photographed him during the hearing and was seen making the white power gesture, New Zealand Herald reported.
Throughout the hearing, Brenton Tarrant, who had a cut on his upper lip, remained silent and looked at the media persons in the public gallery.
In the worst ever terror attack in New Zealand, multiple gunmen carried out indiscriminate shootings at two mosques in Christchurch during the Friday prayers, leaving 49 people dead and at least 48 wounded, besides giving a scare to the Bangladesh cricket team which had a narrow escape.
Using automatic weapons, the gunmen, four of who were initially taken into custody, launched a "well-planned" attack on the mosques when devotees had assembled for the weekly prayers.
Earlier today, New Zealand Prime Minister Jacinda Ardern vowed that gun laws "will change" in the wake of the worst terror attacks in the country''s history.
Condemning the terror strike, Jacinda Ardern had described it as a terror attack and said it appears to have been well planned. She asserted that New Zealand will not and cannot be shaken by this attack.