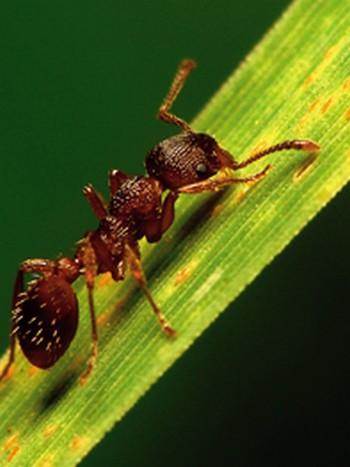 Everything, just about everything -- from eating meat to burning of fossil fuels to deforestation -- has been blamed for climate change, and now new research posits that a small guy, very small guy in fact, maybe behind the nightmare scenario that threatens the future of all life.
Researchers have observed that leafcutter ants, which are seen throughout the Americas stripping leaves and marching toward their nests, create small underground garbage piles of leaves, which decompose and emit the greenhouse gas, nitrous oxide. The process is similar to what happens in landfills, reports Lauren Steussy in the New York Post.
The report quotes a study published on Thursday in Proceedings of the Royal Society B: Biological Sciences saying that leafcutter ants can cause the kind of spikes in nitrous oxide levels usually found in "wastewater treatment tanks or dairy cow manure lagoons.'
'While the researchers didn't go so far as to say that ants are actually causing climate change, they found it compelling that nature's tiny creatures could manipulate their environment in such a powerful way,' reports Steussy,
here
.
Image used only for representational purpose