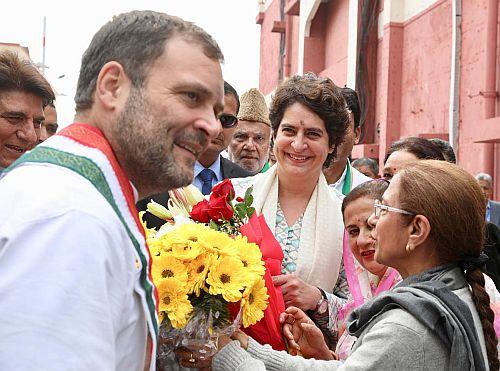 Rahul Gandhi at the road show in Lucknow stays with the Rafale deal attack: "Nation's 'chowkidaar' stole money from Uttar Pradesh, other states, and Air Force. 'Chowkidaar chor hai'. UP is the heart of the country. We'll play on front-foot. Scindiaji, Priyankaji & I won't rest until a govt of Congress' ideology is formed here."
Rahul Gandhi accompanied his sister Priyanka Gandhi Vadra as she made her political debut as Congress general secretary. Priyanka and Jyotiraditya Scindia roared into Uttar Pradesh with thousands cheering as their cavalcade slowly made its way through the city during a roadshow, being seen as launch of the party's campaign in the state ahead of the Lok Sabha polls. The beaming 47-year-old sported a kurta and a stole, and waved at the teeming party workers jostling for a glimpse. "Come, let's build a new future, new politics with me. Thank you," she said in her message to the people ahead of the visit to the state.
When the three leaders embarked on a roughly 25-km-long roadshow, from the airport to the party headquarters, to woo voters in the Lok Sabha polls, rose petals and marigold garlands were showered at their cavalcade. As her 'rath' inched through major thoroughfares, enthusiastic people and party members took vantage positions to click a prized photo.
Enthusiastic Congress workers took to the streets to celebrate the arrival of the two new AICC incharges, with party tricolours and hoardings all over giving the city a festive look. Since early morning, Congress workers were seen busy giving final touches to the arrangements for the roadshow, distributing food packets, tea and water to passersby. Patriotic songs were played on loudspeakers perking up the mood. -- PTI