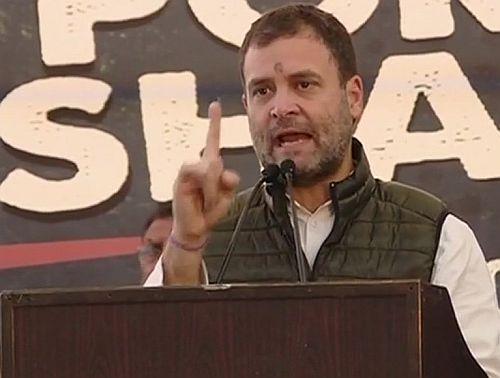 Congress President Rahul Gandhi at Andhra Pradesh CM N Chandrababu Naidu's day-long hunger strike against the central government.
Chandrababu Naidu is in New Delhi demanding that the Centre grant special status to the state and fulfil all promises made before its bifurcation in 2014.
Rahul said, "I stand with the people of Andhra Pradesh. What kind of a PM is he? He did not fulfill the commitment made to the people of Andhra Pradesh. Mr Modi, tells a lie wherever he goes. He has got no credibility left."
Speaking to reporters later, Rahul added, "Every defence deal has an anti-corruption clause. The Hindu has reported that the PM removed the anti-corruption clause. It is clear that the PM facilitated loot."
Apart from the Congress president, a number of opposition party leaders like National Conference president Farooq Abdullah and Delhi chief minister Arvind Kejriwal extended their support to the Telugu Desam Party chief's fast at the Andhra Pradesh Bhavan.