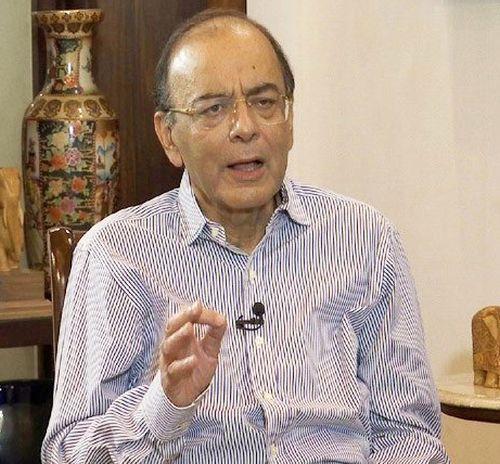 Questioning the timing of the statement by former French President Francois Hollande, Finance Minister Arun Jaitley today said that that it was not a mere coincidence that the Opposition leaders of the two countries were speaking in one voice on the controversial Rafale issue.
Connecting the September 21 statement made by former French President Hollande on Rafale in which he said the French side was asked by the Indian government to go with Reliance as an Offset partner, and a tweet by Congress president Rahul Gandhi on August 30 warning of impending news "in the next couple of weeks", Jaitley said that the two statements may have been `orchestrated' as they are in perfect rhythm with each other.
"I think he (Rahul Gandhi) is in some kind of a revenge mode. I won't be surprised if the whole thing is being orchestrated. On August 30, why did he (Rahul) tweet "Just wait for a while, some bombs are going to be burst in Paris"? And then what happens is in perfect rhythm with what he predicted," Jaitley told ANI.
When pressed further to clearly state if he is alleging that the Opposition of both France and India were in cahoots with each other, Jaitley added: "I don't know. But I see a perfect coincidence in the rhythm between his tweet on August 30 and what happens when a statement is made which is found to be inaccurate and, therefore, the next day itself, Mr Hollande goes and starts backtracking it."
Rahul Gandhi had on August 30 tweeted: "Globalised corruption. This #Rafaleaircraft really does fly far and fast! It's also going to drop some big bunker buster bombs in the next couple of weeks. Modi Ji please tell Anil, there is a big problem in France."
Days later, Francois Hollande told French Journal Mediapart in an interview that the French side had no role in deciding the Offset partner for Dassault and the name of Reliance was given by the Indian side. Hollande made this statement while defending himself and his partner Julie Gayet over alleged funding by Reliance of the latter's film.
Jaitley responded to this sequence of events, adding: "Yeh jo jugalbandihai, mere paas sabot nahin hai, lekin mann mein prashn khada hota hai." (I don't have evidence to back this but this apparent duet which raises questions).