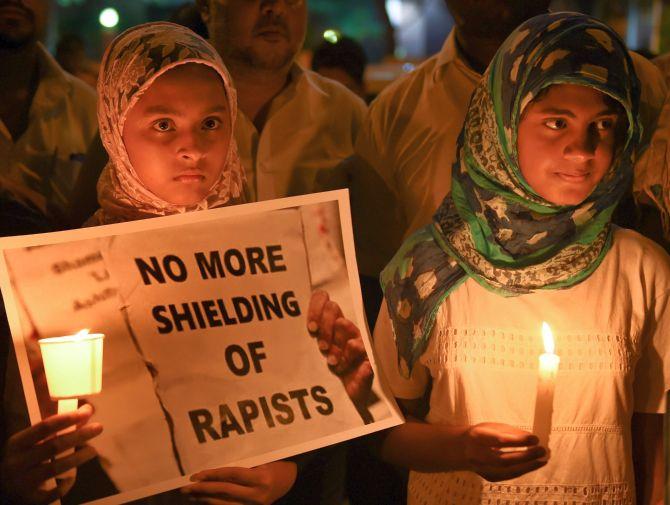 A 'mahapanchayat' comprising 25 villages was held in Kosli town in Haryana over the Rewari gang-rape case. The mahapanchayat decided that no practicing lawyer will help any of the accused. It has also written to the Haryana Governor seeking strict action against accused.
Haryana Chief Minister Manohar Lal Khattar has also conducted a meeting with top officials involved in the case. A SIT has also been formed by the police.
The three accused arrested by the police were produced before a civil Court in Haryana and have been remanded to police custody for the next five days. Raids continued across several states to nab two other key accused, including an army man, even as the state government cracked the whip and transferred the Rewari district police chief.
One of the three key accused, identified as Nishu, has been nabbed, Special Investigation Team chief and Mewat Superintendent of Police, Nazneen Bhasin told reporters in Rewari.
A hunt is on for the two other key accused -- Pankaj, an army man, and Manish, she said. The photographs of the prime accused were released by police Saturday.
The 19-year-old woman, a CBSE topper from Rewari, was abducted from a bus stop in Kanina town in neighbouring Mahendragarh district on Wednesday when she was on her way to a coaching class. She was then allegedly drugged and gang-raped in a room adjoining a tubewell in field.