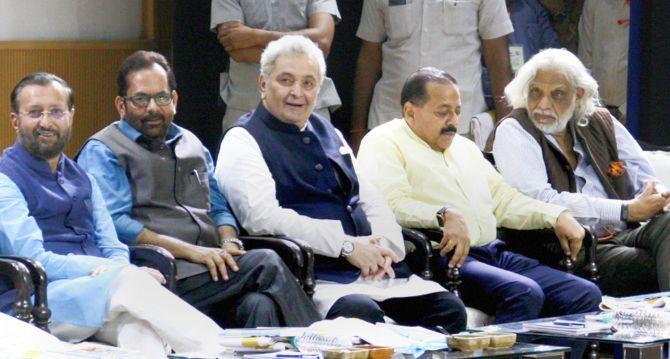 The Urdu version of Prime Minister Narendra Modi's book 'Exam Warriors' was released in the presence of several Union ministers on Saturday.
The book, which focusses on 25 mantras for parents and students to cope with the stress of exams, has earlier been published in 14 languages.
"This book could not have been written by anyone else other than the prime minister and its aim would have remained incomplete if it had not been published in Urdu. This is also because while the natural language of India in many ways is Hindustani, it is in Urdu language that Hindustani finds the influence of Ganga Yamuna 'tehzeeb'. It cannot be found in any other language," said Jitendra Singh, Minister of State in the Prime Minister's Office in chaste Urdu.
Organised by the India Islamic Cultural Centre, the launch was held at Dr Ambedkar International Centre here.
HRD Minister Prakash Javadekar, Minority Affairs Minister Mukhtar Abbas Naqvi, actors Rishi Kapoor and Annu Kapoor and producer-director-writer Muzaffar Ali were among those present.
Naqvi said that the book is a message that children should be brought along in the path of development of the nation.
"There are people in this audience who love Urdu both as a language and as a courtesy. This book that Modiji has written in Hindi and in Urdu and now that it will be printed in Arabic, I welcome the move," he said.
Actor Annu Kapoor said that Urdu should not be associated with any community, instead it should be seen as an Indian language. He told students to study for themselves, not for a degree or for a job.
Javadekar said that PM Modi is the only leader of the world who has written a book for school children at a time when most politicians would be only concerned with vote and constituencies.
"There is a hidden teacher in him...he has ensured that the education of poor children do not suffer. Today the subsidy for them is Rs 2,200 crore. This book is not a deal for votes. It is his way of telling students to not take stress during exams, his way of telling parents not to pressure their children. He is a hands on PM," said the HRD minister. -- PTI
Image: HRD Minister Prakash Javadekar, Minority Affairs Minister Mukhtar Abbas Naqvi, actor Rishi Kapoor, Minister of State in the Prime Minister's Office Jitendra Singh and producer-director-writer Muzaffar Ali at the launch of Urdu version of 'Exam Warriors', a book written by Prime Minister Narendra Modi, at a function, in New Delhi on Saturday, September15, 2018. Photograph: PTI Photo