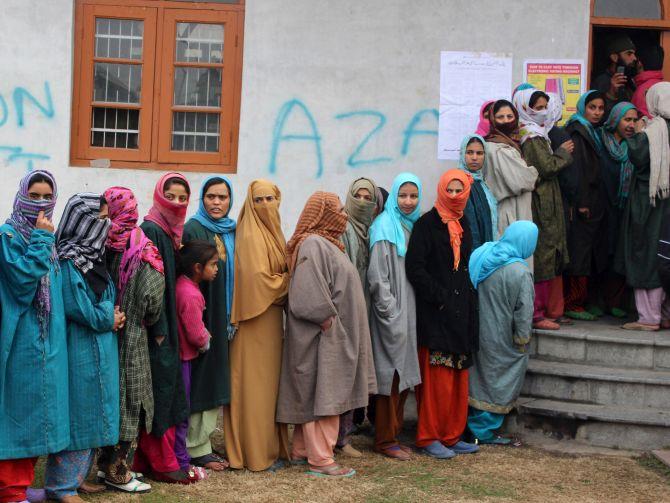 The panchayat and urban local bodies elections in Jammu and Kashmir will be held between October 8 and October 16 in four phases, the Election Commission said today.
"Municipal Elections shall be held in four phases. Date of polling would be October 8, October 10, October 13 and October 16. The counting shall take place on October 20 after all the phases are over," Chief Electoral Officer Shaleen Kabra said.
The two major political parties in Jammu and Kashmir -- the National Conference and the People's Democratic Party -- have decided to boycott the polls saying that the central government is yet to declare its stand on Article 35A, which was incorporated in the Constitution by a 1954 Presidential Order and accords special rights and privileges to the Jammu and Kashmir citizens.
Article 35A, which also denies property rights to a woman who marries a person from outside the state, has been challenged in the Supreme Court and the matter is still under its consideration.
The panchayat polls to elect 4,130 sarpanch, 29,719 panch and 1,145 ward commissioners are expected to be held later next month.
The election to the urban local bodies were last held in 2005 and to panchayats in 2011 after a long hiatus. There were a number of militant attacks on candidates before and after these polls.
The polls to the local bodies were supposed to be held in 2016 but could not be conducted due to the five-month-long unrest in the Kashmir Valley following the killing of Hizbul Mujahideen militant Burhan Wani on July 8 that year.