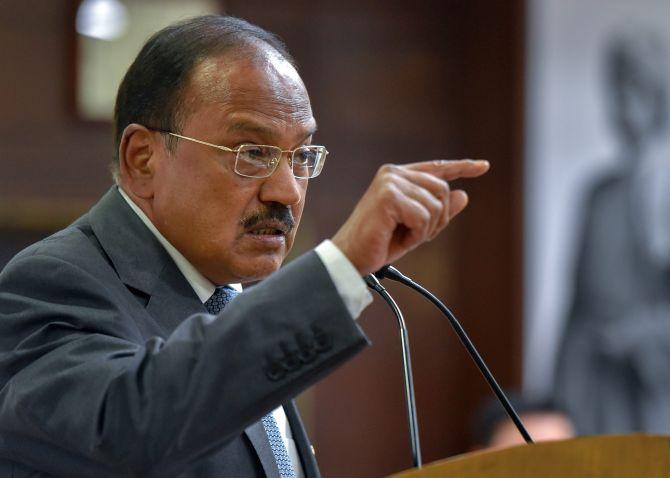 National Security Advisor Ajit Doval on Friday held 'broad-based' talks with US Secretary of State Mike Pompeo, Defence Secretary James Mattis and his American counterpart John Bolton during which they discussed the 'future direction' of the strategic Indo-US ties.
Doval's meeting with the top three officials of the Trump administration came a week after the successful India-US 2+2 Dialogue between the defence and foreign ministers of the two countries.
This was Doval's first meeting with Bolton, the new National Security Advisor to President Donald Trump. Doval had met Pompeo and Mattis last week in New Delhi too.
"During the three back-to-back meetings, Doval had good chance to review the entire bilateral relationship after the 2+2 talks. They build upon the discussion in New Delhi last week," informed sources told PTI.
India's ambassador to the US, Navtej Singh Sarna, accompanied Doval in these meetings.
Describing it 'as a very broad-based discussion', the sources said that Doval and the three top Trump administration officials talked about the 'future direction' of the strategic relationship and identified areas of co-operation.
Regional issues and global developments too figured in the talks, they said, without going into specifics. The US Ambassador to India, Ken
Juster in a tweet said that the last week's 2+2 dialogue 'set the course for even closer ties' between the two countries. He said India-US partnership are on an upward trajectory.
"We've seen positive momentum regarding the US-India relationship these past few weeks with 2+2 dialogue and the progress continues with Doval's visit to the US," said the US India Strategic and Partnership Forum (USISPF). -- PTI