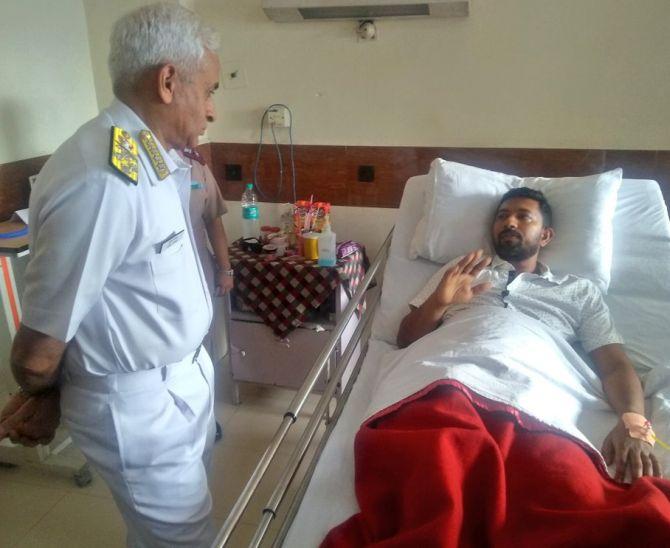 Champion sailor Commander Abhilash Tomy underwent a surgery at an army hospital on Thursday for a back injury he suffered while negotiating a deadly storm in the southern Indian Ocean that left his yacht crippled three weeks ago.
Air Commodore MS Sridhar, the militarys senior-most neurosurgeon, fixed Tomys back in a two-hour procedure, the navy said in a tweet. The 39-year-old is recovering well from the surgery, with his sense of humour intact.
This naval legend @abhilashtomy now has a back of steel. The Docs r totally floored by the resolve and determination of Abhilash. Also compliment his sense of humour. Wish you a super speedy recovery sailor boy, navy spokesperson Captain DK Sharma tweeted. Sharma met him at the hospital.
Platinum sir. My value has just gone up, Tomy responded on Twitter.
Navy chief Admiral Sunil Lanba met Tomy after the surgery and wished him speedy recovery.
Tomy was participating in this years Golden Globe Race, a circumnavigation challenge involving solo participants, and which bars the use of modern technology.
He suffered a debilitating back injury on September 21 after the rough seas and powerful winds pummeled his yacht Thuriya, sending it into a 360-degree spin. He was rescued three days later by French patrol vessel Osiris in a dramatic mission.
Image: Admiral Sunil Lanba, Chief of the Naval Staff of the Indian Navy, interacts with Commander Tomy after his surgery. Photograph: @CaptDKS/Twitter